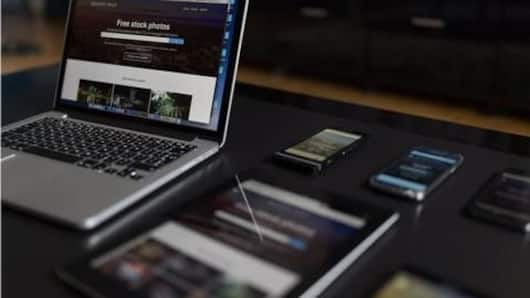 #FinancialBytes: 5 companies that offer gadget loans in India
Almost everyone wants to have the latest smartphones and their favorite gadgets that suit their lifestyle.
But, due to the ever-increasing prices, most people cannot afford to buy their dream gadgets as these are often not budget-friendly. However, there are many companies nowadays that offer loans to customers to purchase gadgets.
Here are 5 companies in India that provide gadget loans.
ZestMoney is a popular online platform for gadget loans
ZestMoney is a popular digital platform that offers gadget loans without the need for credit cards or credit scores.
Customers should register online to activate their credit limit. Loans are digitally processed, and EMIs are collected from the customer's bank account.
ZestMoney also offers loans for travel, furniture, fashion, educational courses, etc. and works across e-commerce platforms like Flipkart, Amazon, Myntra, MakeMyTrip, PepperFry, etc.
Phocket offers gadget loans of up to Rs. 1 lakh
Phocket is another fintech company that offers instant short-term loans, including gadget loans, to salaried individuals.
One can avail loans between Rs. 5,000 and Rs. 1,00,000 for purchasing gadgets.
It offers single-EMI repayment option for loans up to Rs. 10,000 and flexible EMI options of 1/2/3 months for loans above Rs. 10,000.
Those interested can avail gadget loans on Phocket's website or its app.
Love Business news?
Stay updated with the latest happenings.
Yes, notify me
Bajaj Finserv is another popular option for availing loans
Bajaj Finserv is one of the most popular financial services companies that provide loans for consumer durables.
One can avail loans for electronic gadgets and home appliances, through its Bajaj EMI Card for which customers need to apply separately.
The card can be used for online and offline purchases across its EMI Network retailers. It offers the No-Cost EMI facility effectively at 0% interest.
HomeCredit is another leading consumer durable loan provider
HomeCredit is another leading consumer durable loan provider in the country.
One can avail easily accessible loans for a range of products including mobile phones, laptops, home appliances, and electronics among other things.
HomeCredit offers loans at nominal interest rates and flexibility to choose the monthly installment amount. Customers can apply for loans on HomeCredit's website/app for instant approval or approach the company's representatives.
#5: One can also avail loans for gadgets on Kissht
Individuals can avail instant loans for gadgets from Kissht through its Kissht EMI Card. The card works across multiple online e-commerce websites and offline stores. Anyone with a monthly income of over Rs. 12,000 is eligible; one can avail loans on Kissht's website or app.
What are credit card loans?
Asked 2019-05-27 17:43:44 by Tejas Mehra
Answered by NewsBytes
Loans on credit cards are a kind of unsecured loans and a type of personal loan. However, loans on credit cards are pre-approved. These loans are one of the quickest and easiest options to borrow money. Since they are pre-approved, customers need not submit extra documents; the loans are processed and disbursed quickly.
Is it necessary to be employed to avail gadget loans?
Asked 2019-05-27 17:43:44 by Arjun Kapoor
Answered by NewsBytes
Most companies provide gadget loans to people who are either salaried professionals or self-employed individuals. Gadget loans are unsecured and mostly lenders need applicants to be earning a regular income to be eligible.
Which companies provide loans to students?
Asked 2019-05-27 17:43:44 by Sanvi Venkatesan
Answered by NewsBytes
Here are some online loan platforms for students: mPokket, KrazyBee Student Credit Platform, SlicePay, RedCarpet, and Udhaar Card - Instant Loan.
What are some credit card options for someone with no income?
Asked 2019-05-27 17:43:44 by Diya Tata
Answered by NewsBytes
In India, some banks issue credit cards to people with no income, even students, against fixed deposits and strong savings accounts. Some options include: Axis Bank Insta Easy Credit Card, SBI Card Unnati, ICICI Bank Instant Platinum Credit Card, and Kotak Mahindra Bank's Aqua Gold Credit Card.