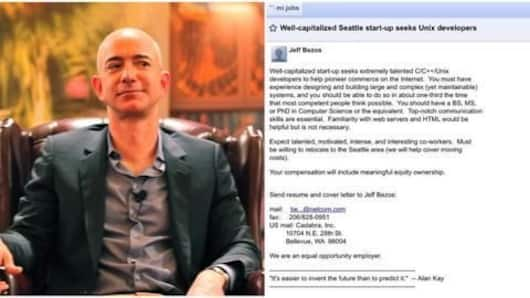 Want to work at Amazon? Job ad reveals back-breaking standards
For years, Amazon has made headlines for pushing employees to work long hours and imposing debilitating standards, but apparently, that was the plan from the get-go.
A 1994 job listing for Amazon, the first-ever, posted by founder and CEO Jeff Bezos has suddenly gone viral and it reveals what made the e-commerce company the world leader it is today.
Here are more details.
Job listing, dated September 22, 1994, recently went viral
An old tweet of BNN Bloomberg host Jon Erlichman, which has now gone viral, shares a screenshot of a job ad for Amazon, dated September 22, 1994. The ad states, "Well-capitalized start-up seeks extremely talented C/C++/Unix developers to help pioneer commerce on the internet."
Amazon demanded deliverables in 1/3rd time of the most competent
The part that really has everyone in a tizzy is the line: "You must have experience designing and building large and complex (yet maintainable) systems, and you should be able to do so in about one-third the time that most competent people think possible."
The listing adds applicants must be "talented, motivated, intense, interesting" and willing to move to Seattle, where Amazon is headquartered.
Love Business news?
Stay updated with the latest happenings.
Yes, notify me
American Oligarchy is not to be celebrated, writes Twitter user
Many criticized Amazon for setting over-the-top employer expectations.
"I'd never apply for such a job opening. It's disgusting," wrote one Twitter user. Another said, "American Oligarchy is not to be celebrated. Bad for labor, the market & democracy."
Another argued, "Of course some won't like 'able to do so in 1/3 the time most competent people' part. That means this job wasn't for you."
Amazon has a history of mistreating employees
In the past, Amazon, with its 6 lakh staffers, has faced backlash for its treatment of employees.
Earlier, many pregnant employees had claimed they faced discrimination at Amazon.
In December, reports surfaced that warehouse workers were peeing in bottles to save time from bathroom breaks.
The same month, a Melbourne woman claimed she was fired for leaving to pick her kids up from school.
When was the Amazon job listing posted?
Asked 2019-07-10 19:53:29 by Rishika Pillai
Answered by NewsBytes
The Amazon job listing that has gone viral is dated September 22, 1994.
How many employees does Amazon have?
Asked 2019-07-10 19:53:29 by Arjun Chavan
Answered by NewsBytes
Currently, Amazon has over 6,00,000 employees across the world.
When was Amazon founded?
Asked 2019-07-10 19:53:29 by Tejas Singhal
Answered by NewsBytes
Amazon was first incorporated by Jeff Bezos in 1994. The e-commerce site went public in 1997.
Where is Amazon's head office?
Asked 2019-07-10 19:53:29 by Ankita Shah
Answered by NewsBytes
Amazon is headquartered at Seattle, Washington, United States.