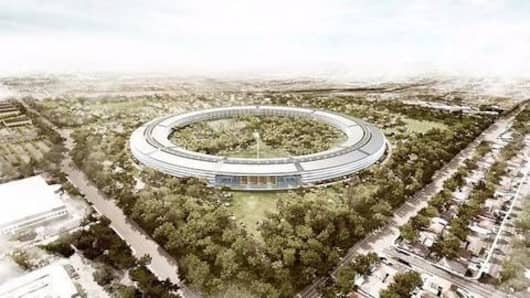 Apple's new campus to be operational this year
In a fitting tribute to the late Steve Jobs, Apple is set to complete its new, futuristic 'spaceship' campus in Cupertino, California, by spring this year.
The 2.8 million square-foot donut shaped campus, called Apple Campus 2, was one of the last projects Steve Jobs had worked on, and its flawless, detailed construction would have no doubt been to his satisfaction.
Apple is making an iconic building
"It's not about maximizing the productivity of the office space, it's about creating a symbolic center for this global company. They are creating an icon," said Louise Mozingo, the head of the Department of Landscape Architecture and Environmental Planning at U.C. Berkeley.
The campus was designed keeping in mind Apple's standards
Steve Jobs' obsession with design finds manifestation in the campus, which was designed to perfection.
No single pipe or electrical wire was to be in plain sight, the ceiling panels had to be pristine, wood used had to be of a specified type, toilets and elevator buttons were designed like the iPhone, and every single element was to be made with the highest precision.
Love Business news?
Stay updated with the latest happenings.
Yes, notify Me
The world's largest piece of curved glass
The Apple Campus 2 will have the world's largest piece of curved glass. The 6 km long piece of curved glass is currently being installed onto the exterior of the campus' main building.
The Apple Campus 2's capacity
Once completed, the Apple Campus 2 will be able to accommodate up 14,200 employees.
Built over a permeable landscape of 102 acres, the campus will be surrounded by a canopy of 7,000 trees to reduce the concrete footprint.
The campus will also feature a 220 thousand square-foot auditorium, and boasts a parking space capable of accommodating 10,980 cars.
Apple's onerous demands
In the US, tolerances permitted for construction measurements (i.e. the distance by which materials may deviate from the desired measurements) is usually 1/8th of an inch. Apple, sticking to its obsession with precision, often demanded much less tolerances.
13,000 contractors in a $5 billion project
Credits:
The original contractors, DPR Construction and Skanska USA, left after the work had begun, perhaps due to the level of micromanagement involved in construction and design.
The construction of the campus involved over 13,000 contractors and while the total cost of the campus hasn't been revealed yet, it is estimated to be close to around $5 billion.