Premium sedan Lucid Air eyes Tesla Model 3 market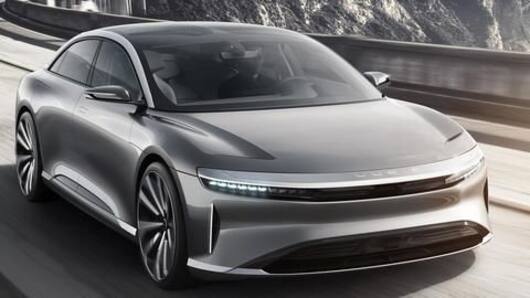 California-based Lucid Motors is the latest automotive vehicle manufacturer to foray into the luxury electric sedan segment with their debut product 'Lucid Air'.
The small company with just 300 employees will release the final product in 2018. It had presented a prototype last December.
The Lucid Air will compete in the same segment where the Continental, Mercedes-Benz S-Class, Tesla Model S, and BMW 7-Series.
In context
Lucid Air convincingly challenges Tesla Model 3
Why is Tesla Model-3 making headlines?
Scheduled for 2017 end release starting $35,000, Tesla's all-electric, luxury sedan 'Model 3' will deliver at least 346 km on a single charge. Within a week of the March 31, 2016, announcement, the company had 325,000 reservations, three times over star product Model S.
Competition
Why is Lucid Air drawing attention?
Lucid Air promises 643.738 km (400 miles) on a single charge, 54 km (33.5 miles) more than Model 3.
It also boasts of going 0-96.5 km/h (60 mph) in 2.5 seconds. Model 3 will take at least four seconds to offer the same level of acceleration.
Lucid Air will have a Li-Ion battery pack of 130kW/h and seats resembling those of a private jet.
Love Business news?
Stay updated with the latest happenings.
Notify Me
Team
Who are the people developing Lucid Air?
David Moseley, the Director of Powertrain (pertaining to engine and transmission) at Lucid Motors and Chief Technology Officer Peter Rawlinson were previously in the team that had developed Tesla batteries and Model S.
Designer Derek Jenkins had designed most of current Mazdas while manufacturing director Brian Barron was brought from BMW, where he oversaw the new production line for the X3 and X4.
Growth of electric car market
A recent research by Bloomberg New Energy Finance suggests that electric vehicles will take up about 35% of global new car sales by 2040. Even though the current market for electric cars is small, air-pollution regulations will force auto makers to engineer better electric vehicles.