Elon Musk has WeChat owners backing Tesla up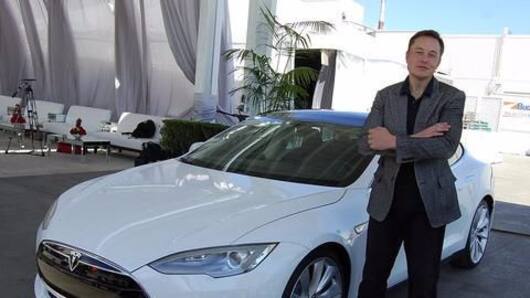 Chinese tech giant Tencent has reportedly shelled out $1.78 billion in Elon Musk's Tesla for a 5% stake.
If you are wondering what 5% stake exactly means, its 8,167,544 shares.
This is, however, a passive stake holding. This means they do not get a seat in the board or are not a voting partner.
So, what does this investment mean for the tech world?
In context
Musk's Tesla gets vote of confidence ahead launch
In the offing
Tesla has its hands full with the new car launch
Elon Musk-led Tesla is all set to launch its latest car, the Model 3 sedan.
Tesla had earlier said that they had around more than 400,000 reservations which projects a sale of around $14 billion.
It may sound promising, but Tesla has a history of not delivering in time and analysts fear that this $35,000 car may be one more in the list.
Diverse portfolio
Elon Musk's major investments
Musk is the largest shareholder of Tesla with a little more than 20% stake.
Musk owns the majority stake in SpaceX, a private space transportation company valued at $10 billion.
He is also an investor in several important companies like Stripe, a payment processing firm valued at $9bn, Neuralink the AI-human symbiosis project which surfaced recently and SolarCity which deals with solar energy services.
Love Business news?
Stay updated with the latest happenings.
Notify Me
Future prospects
What this deal could mean for Tesla's future
Tencent Chairman Ma Huateng shares the vision along with Musk of developing AI for driverless cars.
This deal will also carve a path for Tesla to make its way into the Chinese market, which till now had very few takers of its cars.
With the entry of Tencent, the west may see more instances of Chinese investments for new age tech business.
Elon Musk, the regular handsome talented millionaire geek
Musk is a typical nerd and had confessed that he once considered naming one of his children "X" after Professor Xaviers of X-men and to top it all his SpaceX rocket Falcon, is inspired from Star Wars' Millennium Falcon.
03 Apr 2017
Tesla registers record deliveries after weak 2016 end
Registering an impressive 70% rise since the Jan-March 2016 quarter, Tesla has delivered a record 25,000 cars this time.
It delivered 13,450 Model S cars and 11,550 Model X vehicles.
This is a significant development for the company, whose deliveries fell by 9% in the last 2016 quarter due to production problems.
05 Apr 2017
Tesla is now the most valuable US automaker
Tesla has now become the most valuable US auto company, after its market cap surpassed that of General Motors and Ford as well.
Tesla's car production as well as car deliveries were up in the first quarter this year. Other big automakers, however, saw a drop in their sales.
Tesla stocks are trading at $303.80 and its market cap is at $53.06 billion.
14 Apr 2017
Tesla's new electric lorry coming up in September
Tesla chief Elon Musk has announced that the company will unveil an electric lorry five months later, in September.
An electric pick-up truck will also enter the market in 18-24 months.
However, there is concern it won't be able to meet its current demand; there are already 400,000 pre-orders for its Model 3, which is set to go into production later in 2017.