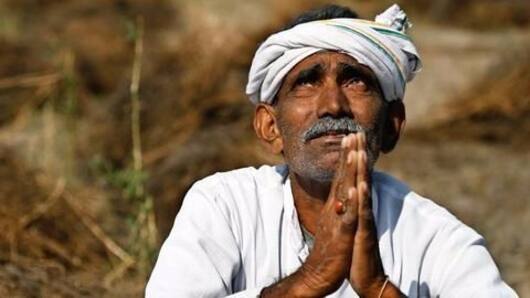 Corporates account for significantly higher NPAs than farmers
Indian banks have an estimated Rs. 6.8 lakh crore worth of Non-Performing Assets (NPAs), according to the Public Accounts Committee of the Parliament.
70% of this comes from the corporate sector while 1% are farmers.
However, as agriculture expert Devinder Sharma noted in The Wire, "corporate loans are being waived off while waiving farming loans is still being frowned upon."
Rahul: Modi gives debt relief to richest people, not farmers
Congress VP Rahul Gandhi met farmers from Tamil Nadu protesting at Delhi's Jantar Mantar demanding drought relief funds.
"PM has given debt relief to richest people in the country, why not for people who have built this country, the farmers," Gandhi said.
"Their voices don't reach either the Indian Government or PM Modi. It is the responsibility of the PM to listen to them."
Corporate loan waiver good economics, for farmers-credit indiscipline
Arvind Subramanian, the government's chief economic adviser, said the corporate sector's bad debts (worth Rs. 4 lakh crore) must be written off as it makes economic sense. However, SBI chairperson Arundhati laments that loan waivers to farmers is bad economics and can cause credit indiscipline.
Love Business news?
Stay updated with the latest happenings.
Yes, notify me
Corporates get long-term, near interest-free loans; farmers-high interest rates
Gujarat's government gave Tata a Rs. 456.79 crore loan to construct its Nano plant at a 0.1% interest-rate returned over 20 years.
Similarly, Punjab's government gave Laxmi Mittal a Rs.1,200 crore loan to invest in the Bathinda refinery.
Meanwhile, a poor farmer buying a Rs. 5,000 goat can receive a loan from a micro-finance institute at a 24-36% interest rate returned in weekly intervals.
Millions can benefit if given same loans as Tatas
Millions of poor people can become entrepreneurs by sustaining their livelihood by doing things like rearing a goat and selling its milk. But that's possible only if banks provide the same kind of loans to them as those given to the Tatas and Laxmi Mittal.
Banking system doesn't allow poor to flourish
Credits:
A rich persons can buy a luxury car at a 7% interest rate.
Farmers can purchase a tractor at an interest rate of 12%.
Tractors are essential for producing more crops and subsequently, a farmer's income while a luxury car is a status symbol.
The banking system is hence designed to favour the rich while the poor pay more to sustain their livelihoods.
Modi giving UP farmers loan waiver, what about other states?
Loans worth Rs.36,000 crore need to be waived off in UP. PM Modi has promised to do so and the Centre has agreed to reimburse the UP government for this.
Bank loans worth Rs.35,000 were defaulted on by farmers in Punjab.
Maharashtra, where over 23,000 farmers committed suicide since 2009, requires a Rs.30,500 crore loan waiver.
Farmers in drought-hit Tamil Nadu too are demanding loan waivers.