Gold hits five-month high riding on troubled waters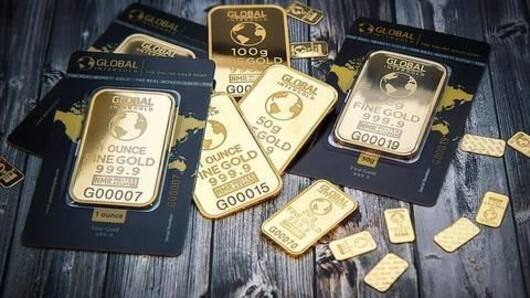 Gold soared to a five-month high as investors are veering towards assets that will not dwindle in face of rising global tensions.
Investors are twitchy at the moment with the situation that is going on in North Korea and the stance taken on the same by Trump.
Gold is expected to remain bullish until several factors such as the following, play out their course.
In context
Gold will stay bullish until global tensions subside
Hike
Rising exponentially on the price chart
In the past week, the yellow metal saw a hike of 2.5% marking its biggest gain since June 2016 and the US gold futures showed a 04% upward climb.
SPDR Gold Shares ETF, which is the world's largest gold-backed exchange traded fund, noted that its current holdings saw a rise of more than six tonnes, marking its biggest monthly inflow on Thursday.
Kim Jong Un
Kim Jong Un and North Korea's missile test
Kim Jong Un, himself is akin to a loose cannon and when he threatens the world saying that the country which has been barely struggling to hold itself together, is ready for nuclear strike and has the USA on its radar, it is needless to ask why investors are panicking.
Current reports are speaking of an uneasy calm in Pyongyang, despite failed missile launch.
Love Business news?
Stay updated with the latest happenings.
Notify Me
Trump
Trump administration is still grasping straws
Trump may be a businessman but the nitty-gritty of global politics maybe a tad bit tough for him to handle and investors are really not betting on him to perform any miracle anytime soon.
The buzz on the street is that USA along with its allies and China are now working on a suitable response to Kim Jong Un's failed missile test.
Election
France's upcoming presidential election
Brexit getting passed, Trump winning the presidential election - all these unforeseeable outcomes have now made investors wary against predictions.
France's first leg of presidential election kick-starts on April 23. Instead of betting on the projections to go in their favour, investors are stockpiling their safe haven assets and sitting this one out, and are content watching the action from the bench.
Bullish
Possible outcomes and predictions
The market is going to be nervous and will rather wait and watch than make any risky bets. A cautious stance and stockpiling on assets will keep gold giving a bullish outlook until uncertainties start clearing up.
According to Reuters analyst, we may end up seeing a rise of $1,303 per ounce as it has already broken above the resistance set at $1,282.
Largest true gold nugget
The largest ever true gold nugget was found in 1869 at Moliagul in Australia and was nicknamed "Welcome Stranger" which is truly a remarkable feat considering a five carat diamond is easier to find compared to a one-ounce nugget of true gold.