Electric Vehicles: Nissan Leaf trial runs to commence this year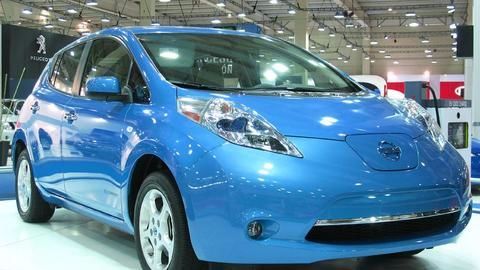 Nissan Motor Co. is exploring the opportunities of electric-vehicles in India, as Nissan India Operations head, Guillaume Sicard noted, "We will start a pilot project involving the Nissan Leaf this year, which will help us in assessing the viability of electric vehicles (EV)."
The trial run aims at gauging the prevalent road conditions in India and whether the car would match up to it.
In context
Nissan to debut in Indian electric vehicle scene
Late debut
Reasons for a late debut
The company's impending fear as revealed by an official, pertaining to the trial run of Leaf is the battery accountability in accordance with the Indian condition.
He also said, "How will it function in a city like Delhi, where temperature shoots up during summer?". The present idea is to create a demand for the car and see if it can be assembled here.
Plans
India to be a country with 100% EV by 2030
In an interview with ET, Piyush Goyal, Union Minister said, "To achieve this ambitious target, the government is formulating schemes, which will allow citizens to purchase EVs on zero down payment, allowing them to pay out of their savings on expensive fossil fuels."
Officials have earlier stated that government is working with various agencies and state-owned firms to facilitate the 'only for EVs' lease.
Love Business news?
Stay updated with the latest happenings.
Notify Me
Ministry use
Transport ministry puts up online bid to hire electric cars
The Transport ministry has resorted to online bids to hire electric cars for the use of their officials for a time period of a year which "may be extended for a period of further one year".
An estimated 5 EVs are required every day by the ministry, although, it holds the right to increase and decrease the numbers without prior notice.
Mahindra
Mahindra to launch electric buses by next year
The Transport ministry's 100% EV goal has influenced Mahindra to launch and start the sales of electric buses in India by next year.
Work on larger electric powertrains to support vehicles like bus and cargo trucks have already started according to the CEO of Mahindra Reva Electric Vehicles Ltd, Mahesh Babu.
Firm plans to sell 100,000 units of EV in the next 2-3 years.
Electric cars versus fuel cars
Electric cars are highly efficient than the fuel based cars where only 14-26% of energy is transferred to the vehicle compared to 80% energy of the EVs. It causes less pollution and belongs to a market where the sale is on a rapid increase.
Green Tech
Electric vehicles to turn affordable in 2-3 years in India
SoftBank Group Corp. estimates around 2-3 years from now, electric vehicles would become affordable in India and the use of green technologies would increase.
As the Indian market is driven by the customer expectation of value for money, the storage battery costs which hike the prices up by almost 50% are expected to become more affordable by 2020-21 facilitating the customers.
Making the smart choice
To curb the pollution in Indian cities, the government is now putting more emphasis on use of EVs. With the falling cost of producing EVs and innovations in technology to aid better functioning, a consequent rise in the sales of EVs has been noticed.