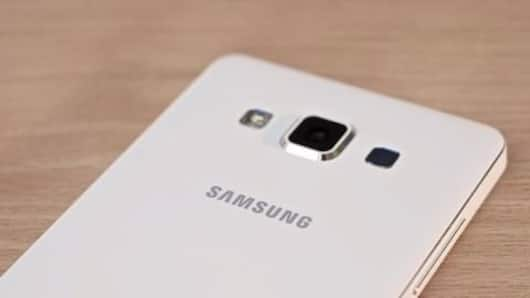 Samsung leaves Apple behind, once again emerges as market leader
IDC research noted that in the first quarter of 2017, Samsung once again made its way to the top leaving, its major rival, Apple behind.
Galaxy Note 7 fiasco might have left Samsung economically drained along with a loss of face but as the firm embarks on the road to redemption, now it has reason to be jubilant.
Here's all you need to know.
Apple may take a bite off next quarter
According to the research, the firm has sold 7.9 million smart phones in the first quarter managing to capture a market share of 22.8%, helping it to emerge as the top player in the tech race.
Apple followed suit with 14.9% market share and with the impending release of 10th anniversary model, chances are that it may take overtake Samsung in the next quarter.
Heavy discounts and a better bang for the buck
Samsung offered hefty discounts on Galaxy S7 and S7 edge, which not only boosted sales, but also cleared the inventory to make way for the new S8 and S8+.
Its core strength still remains in the fact that it offers mid-segment models at a competitive price, which along with brand recall has managed to ensure a steady inflow of strong numbers in the chart.
Love Business news?
Stay updated with the latest happenings.
Yes, notify me
Smartphone industry is still booming
IDC estimates that the mobile firms shipped around 347.4 million smartphones worldwide in Q1, marking a 4.3% growth overshadowing the 3.6% growth-forecast by the firm.
IDC's VP of Worldwide Quarterly Mobile Device Trackers segment, Ryan Reith glibly remarked "The first quarter smartphone results further prove that the smartphone industry is not dead and that growth still exists."
The new upstarts in the race for the top
Huawei, OPPO, and Vivo are also proving their mettle with strong footing in Asia's largest market by focusing on affordability rather than flagship or premium end models.
"Despite all the popularity and media hype around premium devices, we continue to witness a shift in many companies' portfolios geared towards affordable devices with premium-type styling compared to flagship models," IDC research manager Anthony Scarsella noted.
The mantra is affordability and sustainability
The smartphone market will slowly start to climb its way from the fall it had last year with the help of affordable, value-for-money models, as the shift in trend shows.
IDC's VP of Worldwide Quarterly Mobile Device Trackers, Ryan Reith said, "We believe the industry will show some rebound in 2017, and the strong first quarter results certainly support this argument."