Suresh Prabhu's dream project was inaugurated on 22nd May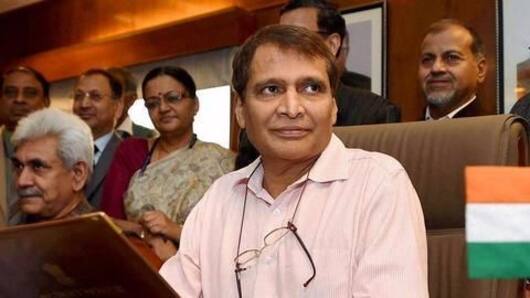 Tejas Express will be flagged off tomorrow from Chhatrapati Shivaji Terminus Mumbai (CST), Mumbai for Karmali in Goa for its inaugural run, by Railway Minister Suresh Prabhu.
The train has been streamlined for passenger comfort and will have several modern amenities, such as CCTV cameras, bio-vacuum toilets, touch screen LED TVs and others.
Here's all that you need to know about it.
In context
Prabhu's Tejas is ready for its maiden journey
Features
What's on the offing
A journey in Tejas will have you seated on comfortable premium e-leather seats, which come with adjustable headrests and arm supports to browse through the touch-sensitive infotainment screen set before passengers that would show you real-time progress of the journey and also other programmes to pass your time.
One can avail the call button facility if he/she wants to call an attendant for help.
Compartments
Streamlined for luxury
Tejas is capable of traveling at a speed of up to 200 kmph.
Its 14 non-executive chair cars will carry 72 passengers in 3+2 combination and the two Executive Chairs will carry 56 passengers in 2+2 configuration.
Tejas, which has been manufactured at the Rail Coach Factory in Kapurthala, will have CCTV cameras, smoke-and-fire detection systems and automatic entrance doors with all the coaches.
Love Business news?
Stay updated with the latest happenings.
Notify Me
Fare
The pocket pinch
A seat in the Executive Class in Tejas is going to set you back by Rs. 2940, however, if you choose to let go of the food, it will be Rs 2,540.
Similarly, the Chair Car fare is Rs 1,850 with food and Rs 1,220 without food.
Tejas will also have tea and coffee vending machines and snack tables at every coach.
Schedule
Future plans and schedule
The train also comes equipped with bio-vacuum toilets, odor control system, occupancy indicators and others.
The train will leave for its inaugural run from CST tomorrow at 3:25 pm and reach Karnali at 12:35 am; however, its schedule will differ in the coming days.
According to reports, the Tejas Express will also be deployed in Delhi-Chandigarh and Delhi-Lucknow routes in the near future.
25 May 2017
Tejas' disappointing start: Smashed windows, stolen headphones, soiled toilets
Even before the launch of the semi-luxurious Tejas Express, a window had been vandalized. By the time it completed its maiden Mumbai-Goa journey, headphones had been stolen and toilets soiled.
A passenger on the second day told HT, "The train was not properly cleaned. Toilets too were unclean. Attendants were ignorant. The food was not as good as during the inaugural run."