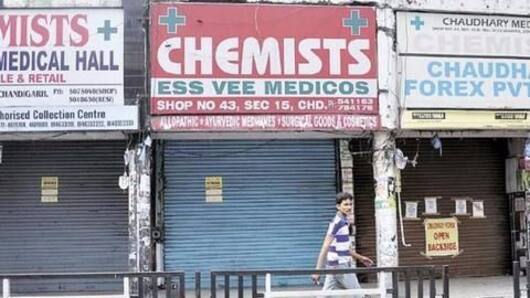 Chemists across India to go on strike today
Over 9 lakh chemists across India will go on strike on May 30 to oppose against strict regulations on sale of medicine and their diminishing margins.
Emergency service units around hospitals will stay open, confirmed the Retail Distributors Chemists Association.
Though the health ministry intervened on May 29, chemists refused to call the strike off "at such short notice and without any assurance".
The government's new proposals
In March, the Ministry of Health and Family Welfare proposed 25 provisions to check sale of sub-standard drugs and regulate prices.
One of them is the mandatory registration of all medicines on an e-portal.
Only those medicines registered on the portal would be allowed to be sold. Moreover, all sales have to be recorded on the platform.
The ministry has sought feedback from stakeholders.
What are the chemists' concerns?
Chemists have termed an e-portal "impractical", saying India doesn't have adequate IT infrastructure. Moreover, the industry lacks tech-savvy staff.
Too strict regulations can cause shortage of drugs, they argued.
They want margins higher than the current 16%, as the government wants them to maintain a certain level of infrastructure.
Chemists also object to e-pharmacies, which they say can lead to circulation of counterfeit drugs.