Reliance Jio leaves other telcos far behind in download speed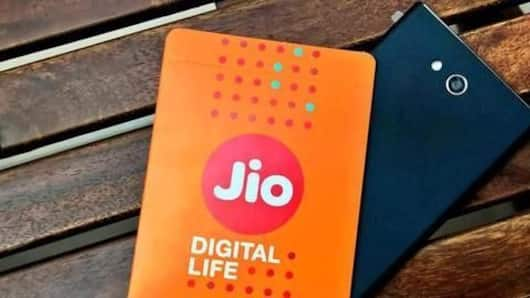 According to the latest report by telecom regulator TRAI, Reliance Jio broke its erstwhile record of 18.48 Mbps and clocked in a high download speed of 19.12 Mbps, topping the 4G network speed chart for the month of April.
Reliance Jio's biggest competitor Bharti Airtel managed a 4G download speed of 10.15 Mbps during the same period.
Here's all about it.
In context
Jio is downloading success faster than its competitors
Speed
Maintaining the momentum, four months in a row
The Telecom Regulatory Authority of India (TRAI) collates data on a real time basis with the help of its MySpeed application in which Jio emerged as the fastest of the lot.
April marks the fourth consecutive month, where Reliance Jio managed to top the charts leaving all its competitors behind.
Competition
Other telcos need to up their game
Vodafone India and Idea Cellular, which are scheduled for a merger that will make them a $23 billion enterprise with a 35% market share, with which they aim to take on Jio; managed to clock in 13.70 Mbps and 13.38 Mbps respectively in this month.
The merged entity will have to up their game if they want to compete with Jio.
Love Business news?
Stay updated with the latest happenings.
Notify Me
Paid
72 million paying users from 100 million free service users
Another study by Kleiner Perkins Caufield & Byers recently cited that Reliance Jio's average revenue per user (ARPU) grew by Rs. 300 after it started to charge for its services post-March.
The Mumbai-based telco has been successful in converting more than 67% of the total 108 million free service users to the Prime platform and now has a staggering 72 million paid customer base.
Service
Lagging far behind in the race
At the same time, Bharti Airtel, Vodafone India and Idea Cellular's combined average ARPU was about Rs. 195, the study said.
After Jio's shift to payment based service other telcos, accounting for 60% of the total consumer base, had to slash their rates; even then Jio's average cost of 1GB data was Rs. 21.12 compared to their Rs. 128, said the Kleiner Perkins report.
04 Aug 2017
With 18Mbps, Jio has topped 4G speed since seven months
Jio has again recorded the fastest 4G services in June with an average download speed of 18Mbps.
According to TRAI report, Vodafone followed Jio, but at 11.07Mbps, its speed was 68% slower. Airtel was the slowest at 8.91Mbps.
Idea Cellular was third with a speed of 9.46Mbps. Data of other service providers wasn't published.
Jio has been recording the highest speed since seven months.
RCom
Anil Ambani is looking at the big picture
Anil Ambani, chairman of the Reliance Communications, is having it rough these days after posting second consecutive quarterly loss, downgraded ratings and loan issues.
While many have blamed this on his brother Mukesh Ambani's Jio effect, he holds a different opinion.
Anil Ambani said that RJio's entry bolstered their telco, as it would now be able to make use of Jio's one lakh towers.