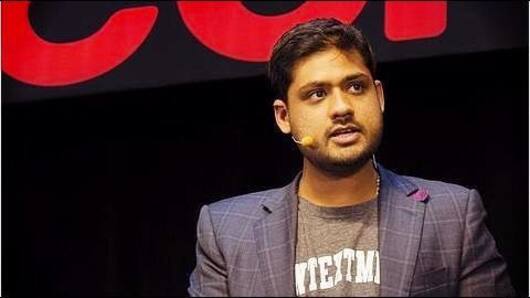 Indian-American Rishi Shah, the newest tech billionaire
Indian-American Rishi Shah, who quit college ten years ago to pursue his dreams, has become the newest tech entrepreneur to join the billionaire club with his business partner Shradha Agarwal close behind.
The windfall came with a recent $600mn funding into their healthcare tech company Outcome Health.
Outcome, which is now valued at $5.6bn, is based in Chicago.
Know more about their journey!
Success
Outcome Health (formerly known as ContextMedia) isn't only the newest unicorn company but it is also in the top 30 on the list of 200 non-public firms worth $1 billion.
Grew up in Chicago suburb Oak Brook
Credits:
Rishi Shah's father is a doctor who migrated from India; his mother used to manage his father's practice.
Rishi said the initial idea for setting up a healthcare tech company to provide content to doctors was inspired by his sister, who has Type-1 diabetes.
He attended Northwestern University where he met his business partner Shradha Agarwal, now President of Outcome.
Love Business news?
Stay updated with the latest happenings.
Yes, notify me
Doctors didn't see value in their services
Rishi and Shradha founded ContextMedia in 2006 out of Northwestern University and funded it by taking loans.
The company sold video monitor services to doctors and hospitals.
However, not many doctors were interested in providing digital education in their clinics.
Finding little appetite for their idea, the duo decided to build from scratch a profitable or at least break-even business.
Revenue doubled in each of the last two years
Over the next years, ContextMedia grew and investors noticed but the founders passed up offers to retain ownership and scale organically.
It thrived after acquiring AccentHealth in Nov'16.
In 2016, the company's revenue was $230mn; it posted a 40% operating profit margin.
In Jan'17, the founders changed ContextMedia's name to Outcome Health and pushed it towards the first major funding round.
Helping both physicians and patients
Outcome Health helps both doctors and patients by providing touch-screen monitors to hospitals and healthcare offices.
It installs big-sized, interactive video boards, allowing doctors to better explain patients' healthcare needs or problems using graphics, videos, and interactive visual aids.
The company utilizes specialized software for assisting doctors and patients in everything, from treatment decisions to medical warning signs.
Outcome Health makes complicated things simple
The company aims to maximize how both patients and doctors spend their time.
According to online testimonials, Outcome Health's interactive video boards reduced the time doctors take to explain treatment procedures to patients by 50-70%.
The company often provides services to medical providers for free.
It makes money from drug makers, insurance providers, healthcare marketers, pharmaceutical companies, etc.