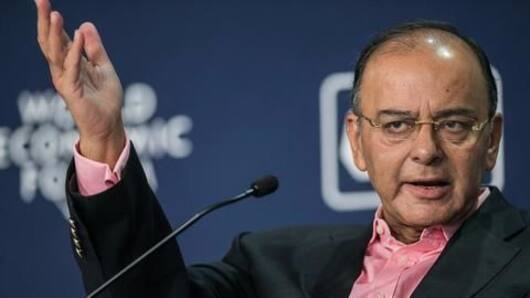 GST: "Nobody had any business to be not ready," Jaitley
All this time the NDA government has been repeating it over and over that businesses need to get their act together and be GST ready, but every industry body has been dilly-dallying and asking for time.
FinMin Arun Jaitley clearly said that the government will not accept this request and gave his two cents on this matter.
Get ready for some badassery.
Jaitley says, enough time was given
FinMin Jaitley said that businesses can't go on giving the same excuse over and over because more than enough time has already been given to them to get GST ready.
Once you have said it, don't blink
You know he is not going to budge from his stance on this matter when he puts on his "swag" quotient on and says, when reforms are made "the first principle is you should never blink. If you blink, then you get derailed." (PIERCING STARE ALERT).
The message is loud and clear: July 1 is etched in stone and there will be no delay.
Love Business news?
Stay updated with the latest happenings.
Yes, notify Me
Get ready to face the music
Firms, which are still hoping for an extension, need to wake up from that pipe dream and get down to business because if they don't, chances are there will be strong consequences.
Jaitley gave out a strong warning to enterprises saying, "We have for the last six months saying that the date is July 1. Nobody had any business to be not ready."
There is time to get ready
Even if businesses start now, they still can be ready for GST when it actually rolls out. But if they are not, the government will know it's an act of defiance rather than unpreparedness.
Jaitley remarked, "There are still two-and-a-half months to be ready, but if he (business) is still not ready, I am afraid, but he doesn't want to be ready."
GST benefits should go to the consumers
The government is taking strict measures to ensure that businesses pass on GST benefits to consumers instead of keeping the profits for themselves.
It has taken the first step of creating an anti-profiteering body, tasked to monitor for two years if the businesses are complying with the norms and if they're not, they'll be subjected to severe penalty and may even lose their registration.
GST launch- Congress, Trinamool to boycott special parliament session
Credits:
Congress said it won't attend the launch of GST at a special midnight parliament session on June 30.
This comes after Trinamool also announced it is going to boycott the session. Party chief Mamata Banerjee said the government was in an "unnecessary hurry" to implement the GST, for which "the economy isn't yet ready".
Many in Congress agree it is being done in haste.