Banks are increasingly using robots to answer basic consumer queries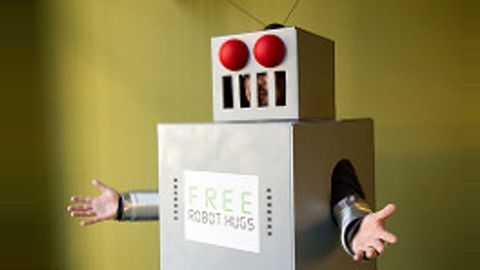 There's no denying the fact that the banking sector is the life-line of the bustling Indian economy and it caters to millions every day.
Over the years, the banking sector has been including a lot of technology in its system. The objective here is simple - get rid of repetitive tasks, provide better services and make the sector run smoothly.
Here's all about it.
In context
Banking becomes easy with robots to the rescue
Banking
Things will always change
In order to provide better services to the populous nation, banking needs all the help it can get. Automation is not a dirty word. While it takes over certain jobs, it gives birth to several more.
Recently, the 50th anniversary of ATM was celebrated. ATMs radicalized the system of bank withdrawals. That was needed then; this is needed now. Change is the only constant.
Robot
You have got a "Mitra" to help you out
There is hardly any point in deploying skilled labor on a task which is basic or repetitive in nature. Now, if one walks into the Canara Bank head office, he/she will be greeted by a 4.5-feet tall Kannada-speaking robot called Mitra.
Armed with an HD camera and flaunting Canara Bank logo on its chest, it can give answers to 500 frequently asked questions.
Love Business news?
Stay updated with the latest happenings.
Notify Me
Mitra
It makes the entire process easier
Without any hiccup, Mitra (Friend) will tell you in the native language all that you need to know to navigate your way through the 15 departments.
The task is an important one but it's also repetitive and boring. Instead of engaging in what the AI robot now takes care of, bankers are now able to focus on core services. It makes them more productive.
City Union
This will soon become a regular fixture
If you're in City Union Bank's Chennai branch, you will meet 'Lakshmi'. Standing two feet tall it was the country's first banking robot and can give you information regarding interest rates, accounts etc.
Lakshmi handles 30-40 customer interactions on a daily basis in English. By the end of July, the bank will have another robot that would speak in Tamil and answer 150 questions.
Demand
The future is here
With rising demand, these robots will become more sophisticated. Jayakrishnan T, chief executive of Asimov Robotics, the firm that created the IRA robot for HDFC Bank, said that they are working on its second version.
These robots will have IBM's cognitive computing system along with other cutting edge technologies to make them more proficient. Two more banks have shown interest in having robot assistants.