The entrepreneur who built a $1billion firm in his basement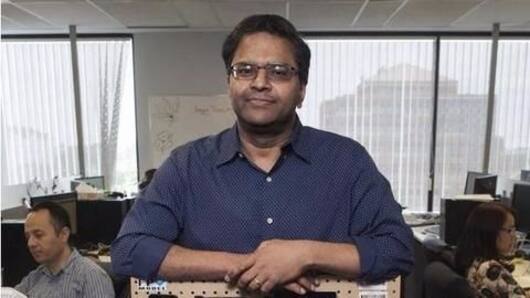 It was 2001 when Carl Rodrigues, an experienced IT consultant, decided to resign from his job and retire to his house's basement in Canada's Mississauga.
Others thought he "lost his mind", but he had a burning dream.
He wanted to develop something that would design innovative computer products.
He later created what today is called SOTI, a mobile technology software company.
Know more!
In context
The journey of Canada based company, SOTI
Idea came from passion and hard work: Rodrigues
Rodrigues stated: "I didn't have the vision from the first day. I started with doing something I loved, and something I was passionate about. When you are doing something you care about, you do a much better job than if you don't."
Founder
About Carl Rodrigues, the founder of SOTI
Rodrigues, born in Pakistan, belongs to a Roman Catholic family with its roots in Goa.
His family immigrated to Canada in the 1970s because of socio-political instability in Pakistan.
He holds a computer science and mathematics degree from the University of Toronto.
A month after quitting his job, he came up with a software system for users to control mobile phones from laptops.
Love Business news?
Stay updated with the latest happenings.
Notify Me
First major success
SOTI's sales were initially slow. But a year after launch, the company's first huge order came from a large UK-based supermarket chain, which wanted to incorporate the software system into its operations for better communication and data sharing between employees.
Take-over
Rodrigues refused several takeover bids, including Microsoft's
SOTI may not be known to people as it sells its systems to businesses and not customers; however, venture capital and tech companies have been following the company's growth.
Despite having $80 million annual revenues, SOTI is still 100% owned by Rodrigues and his wife.
He has turned down many takeover bids, including one $10-million offer from Microsoft in 2006.
Entrepreneurs need marathon mindset to succeed not exit strategy: Rodrigues
Saying that SOTI was never a short-term goal for him, Rodrigues stated: "Many young entrepreneurs I talk to have a "build and sell" mindset, rather than "build and scale." They are looking to run the 100-metre dash for that quick win, rather than the marathon."
Success
SOTI's specialized approach earned success
What once was a basement start-up now creates leading global mobile device management technology.
Headquartered in Mississauga, SOTI today has over 17,000 customers worldwide.
It is currently valued at over $1 billion; with over 700 employees, SOTI operates across 22 countries.
Its first product was Pocket Controller Professional; Pocket Controller Pro and Pocket Controller Enterprise are also among its bestsellers.