Air India: Sale plan green, assets in red, future grey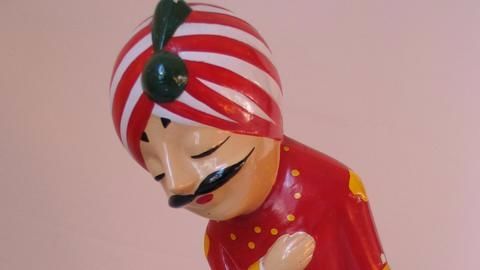 NDA government might have okayed the plan to sell off Air India but the fact remains that no one wants to touch it with a 10-foot pole.
Over the years, exorbitant splurges and incompetency have made the airline a veritable example of what not to do in a business.
Even at its very end, this state-run carrier is giving troubles.
Here's all about it.
In context
Air India will create more trouble ahead
Maharaja
A faint reminder of its erstwhile glory days
It's not that the Maharaja doesn't have assets. It has a sprawling commercial space in London, Heathrow and land in Tokyo, Hong Kong, and Nairobi. It commissioned pricey paintings to adorn its offices because maharajas have always been ardent patrons of art!
Air India even got surrealist painter Salvador Dali to design its ashtrays in the 1960s because a boring ashtray wouldn't have done.
Debt
That was then, this is now
It also has Rs. 52,000cr in debt and an airline operation that's bleeding money, even as you are reading this. Add to that, it has five subsidiaries, one joint venture and a combined workforce of 27,000 for keeps.
Let's also take a moment to appreciate the fact that its unions have a sterling history of grounding the airline if its demands are not met.
Love Business news?
Stay updated with the latest happenings.
Notify Me
Art collection
We are calling it a magic trick
Its famous art-collection also comes with hiccups. Several of its paintings have made their way to the black-market and there's an inquiry going on.
Even if one buys it and injects fresh capital like the government has been doing for the past several years, he/she can't expect profit anytime soon.
Currently, AI's market share stands at 13%, a huge fall from its erstwhile 35%.
Airports
Is there any good left?
This article would be extremely lopsided if one doesn't point out some of the benefits Air India can offer to buyers.
It still has impressive overseas routes, exclusive landing rights at most of the global airports. Air India's in-house engineering and ground handling services are also alluring.
Then again, are these enough to make it a justifiable buy at the very least?
IndiGo
The brave tread on shaky grounds
After all these caveats, IndiGo, on 28th June said that they were willing to buy out Air India's international operations or the entire airline business if the government had agreed.
Its aftermath was IndiGo's stock tanking 8% in two days. The firm lost half a billion dollars from its market value and its owners had to hold a conference to alleviate investors.
Miracle
Let's pray for the Maharaja's future
It goes without saying that Air India's sale will be a difficult one. The government can't keep it anymore and no one in the right mind wants to buy it.
On top of that, debts, allegations, rumors, panic, union problems are all clamoring on Air India with every passing day to clog its sale.
This sale, if pulled off, will be a miracle.