Reliance AGM 2017: 'Free' 4G VoLTE feature phone launched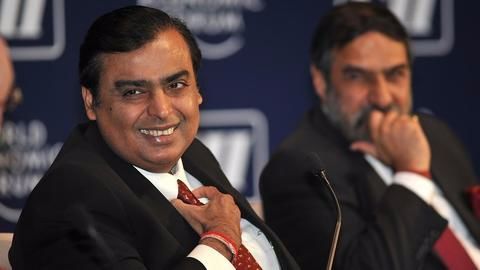 The 40th annual general meeting of Reliance Industries started at 11am today. The main attraction is the launch of a new 4G VoLTE feature phone, which will be offered free of cost to customers.
There will be a security deposit of Rs. 1,500, refundable for 36 months. An exclusive Rs. 153 data plan will be offered.
MD Mukesh Ambani also detailed Jio's stupendous growth.
In context
All about Reliance AGM 2017!
Features
What is the under the hood?
The phone, with a 2.4-inch QVGA screen, is one of the few feature phones available that facilitates secure mobile payments through NFC, like Apple Pay or Samsung Pay.
It has an SD card slot and supports 22 Indian languages.
Long-pressing 5 will send a distress message to chosen contacts.
Exclusive Rs. 153 monthly data plans will offer unlimited voice calls and data.
Growth numbers
How was this financial year for Reliance?
In 30 years, Reliance Industries' market share increased a whopping 50,000 times, from Rs. 10cr in 1987 to Rs. 5L crore today, Ambani said.
Revenue has grown 4700 times from Rs. 70cr in 1977 to Rs. 3,30,000cr today. Net profit has also jumped 10,000 times in 40 years, from Rs. 3cr to Rs. 30,000cr.
Ambani said the shareholders' money is doubled every 2.5 years.
Love Business news?
Stay updated with the latest happenings.
Notify Me
Jio Specific
And, what was Jio's contribution?
Jio has attracted 100mn paying customers within 170 days, adding seven customers/second/day on an average.
Every day, Jio customers make 250 crore minutes of video and voice calls.
Speed test portals have ranked Jio at the top. Ambani claimed, because of Jio, 4G coverage in India will soon be more than 2G.
In 12 months, it is expected to cover 99% of India's population.
India's growth
Indian market is ready to get disrupted!
India's overall data consumption is also rising. It has already surpassed US and China in mobile data usage.
Ambani said Jio, which registered faster growth than WhatsApp, Skype and even Facebook, has helped in the digital revolution.
Presently, 50cr out of 78cr mobile phone users in India are feature phone holders.
India is expected to soon become a leader in broadband consumption as well.
Free shares for all shareholders announced
At the event, Reliance also announced a 1:1 bonus share offer: shareholders will get an additional share for each one they hold. Post the announcement, RIL stocks rallied 3.9% to Rs. 1,588.