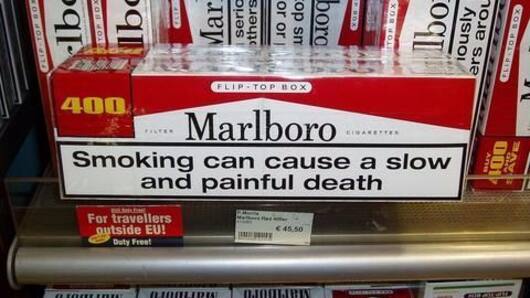 India seeks explanation from Marlboro cigarettes maker over promotion practices
A health ministry official said India is planning to seek an explanation from tobacco giant Phillip Morris over its marketing practices.
The move comes a week after Reuters reported that the company-owned brand Marlboro distributes free cigarettes at nightclubs and bars frequented by youth for promotional purposes.
The health ministry believes the tactic could flout Indian laws.
Documents reveal Philip Morris's strategy for India
Philip Morris's marketing strategy relies heavily on kiosk advertising and social events.
Reuters accessed internal documents dated between 2009-2016.
A 2015 strategy paper listed the company goal to ensure "every adult Indian smoker should be able to buy Marlboro within walking distance."
Another key goal is "winning the hearts and minds of LA-24," a reference to those aged 18 to 24.
Philip Morris also targeted cigarette stalls for illegal advertising
Besides targeting nightclubs and bars, Philip Morris reportedly advertised cigarettes at kiosks, stalls and also distributed free smokes.
The company paid owners Rs. 500-3,000 every month to put up Marlboro ads, which is illegal under Indian 2003 tobacco control law.
India's largest cigarette maker ITC, which controls around 80% of the market, too has used similar tactics.
Love Business news?
Stay updated with the latest happenings.
Yes, notify me
Why India matters for Philip Morris
Cigarette sales are declining in several countries.
Philip Morris has identified India, a country of 1.3 billion people, as a "high potential market with huge upside with cigarette market still in infancy."
India is home to 100 million smokers, of whom, two-thirds smoke bidis.
Around 900,000 people die annually in India and tobacco-related diseases cost the country $16 billion every year.
Govt. plans to take action against tobacco companies
Tobacco companies get away with their promotion activities because enforcement of the Cigarettes and Other Tobacco Products Act remains weak.
Following the Reuters revelations, the government plans to take "action as per law" against Philip Morris and other tobacco companies, said Arun Kumar Jha, a health ministry official who oversees tobacco control.
Jha said the ministry will ask states to act against illegal advertisements.
Philip Morris and ITC claim to comply with Indian laws
Philip Morris had previously said its advertising practices are "compliant with Indian law." ITC too has said it complies with Indian regulations.