Who will replace Travis Kalanick as the next Uber CEO?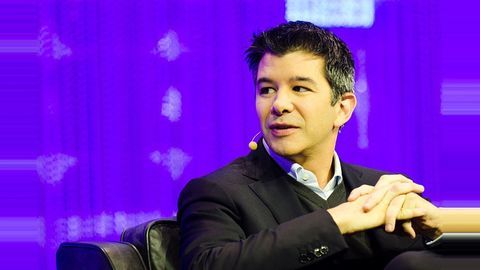 After firing Travis Kalanick, Uber is searching for his replacement and wants to find the new CEO by Labor 4 September.
As Uber is nearing the much-anticipated decision on its next CEO, the drama at the ride-hailing company is intensifying.
Especially, when the ousted CEO, who is involved in the succession process, is telling people that he was "Steve Jobs-ing it."
Know more!
In context
Uber searching for new CEO
Finding a new CEO in a short time
Sources say Uber, which wants a CEO by Labor Day, has got a very short timeline to search for Kalanick's successor. Identification of top executives usually takes a minimum of six months' time.
The Search
Uber's search not going very well, say sources
Kalanick may have resigned as the CEO, but he is reportedly hoping to make a "glorious" Steve Jobs-style return, worrying some company directors.
Also, sources say it is odd for Kalanick, who has been thrown out on 20 June, to be part of the 14-membered search committee trying to identify a successor.
He is apparently trying to get a favorable outcome for himself.
Love Business news?
Stay updated with the latest happenings.
Notify Me
Travis Kalanick
Kalanick had been troublesome earlier too
Even before his ouster, Kalanick was troublesome in the search for a CEO to work with him; it was called off after his dismissal.
Sources say he used to reject candidates without valid reasons, adding Kalanick wouldn't be of any help in finding his replacement.
The ex-CEO is said to have been "consolidating power" to retake a top role, even the CEO post.
Kalanick involved in Uber operations
Speaking of Kalanick still being part of the group operating Uber, a top company official said: "It's (Kalanick's involvement) not stopped. None of us know what to do since it is Travis." Another executive said, "Consensus is not something you are feeling is happening there."
CEO Candidates
Uber board disunited; Meg Whitman drops out
Many candidates for the CEO post withdrew their names from consideration, including Hewlett Packard Enterprise CEO Meg Whitman.
The Uber board and the search committee were divided on hiring Whitman.
Some thought 60-year-old Whitman was good enough to take up the challenge while board member and Kalanick's ally, Arianna Huffington, disagreed.
The company is reportedly not looking for a woman CEO.
Speculation about my future and Uber has become distraction: Whitman
(2/3) So let me make this as clear as I can. I am fully committed to HPE and plan to remain the company's CEO.

— Meg Whitman (@MegWhitman) July 28, 2017
Return to Uber?
Is Kalanick imagining himself returning to glory?
When Kalanick said he would pull a Steve Jobs, he made everyone wonder how he is planning to return to glory.
People are curious about what the ex-CEO has in mind.
Late Apple Co-founder & CEO Steve Jobs was ousted from Apple in 1985 after which he founded NeXT company.
He made a glorious return to Apple in 1996 when it acquired NeXT.