Uber's $12bn investor deal hinges on Benchmark/Kalanick lawsuit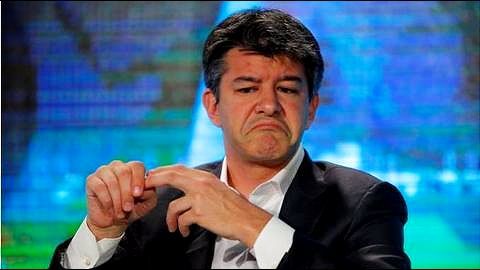 The troubled ride-hailing company Uber is reportedly looking to raise $12bn-worth funds from four investors, Japan's SoftBank Group, China's Didi Chuxing, and American equity firms Dragoneer Investment Group and General Atlantic.
However, the deal hangs on the outcome of the ongoing legal fight between Uber's board members and shareholders, Benchmark Capital and ousted CEO Travis Kalanick, and on Uber's ability to resolve it.
Know more!
In context
Uber and the potential $12bn investor deal
Potential Transaction
Deal would help Uber retain valuation
If Uber can resolve the Benchmark/Kalanick dispute quickly, the investment deal will help it retain the $70bn valuation and allow "panicked shareholders" to cash out.
The deal would reportedly involve a $1-1.5bn investment; investors could also spend $2-10bn to buy shareholders' stock, depending on the sellers' demand.
The four investors are in the "due-diligence" period, the deal's terms are yet to be finalized.
Kalanick has been supportive of SoftBank's investment
Reports surfaced last month that SoftBank intends to buy Uber's shares. It also has a $100bn fund to spend on technology-related deals. SoftBank is one of the major investors in taxi services companies in China, India, and other Southeast Asian markets, including Ola.
Love Business news?
Stay updated with the latest happenings.
Notify Me
The Lawsuit
Kalanick sued by Benchmark Capital
Kalanick was recently sued for allegedly defrauding investors and withholding information from Uber's directors while increasing board seats from eight to 11 last year.
Benchmark claims Kalanick sought to "entrench" himself on the board to increase his power and control over Uber "for his own selfish ends."
However, the ousted CEO denied allegations and stated he was "disappointed and baffled by Benchmark's hostile actions."
Uber Board
Will Kalanick give up board seats as per Benchmark's demand?
The new investors could be given the power to appoint two representatives to Uber's board of directors.
It is unclear whether Kalanick would give up his board seat or the two empty ones under him or new ones would be created for the investors.
Goldman Sachs Group is reportedly advising Uber on the potential $12bn deal that is facing complications.
Shervin Pishevar-led shareholders want to force Benchmark out of Uber
Meanwhile, three minor Uber shareholders, led by Shervin Pishevar, backed the ex-CEO Kalanick and said they want to take Benchmark's board seat by buying its stock. Pishevar, Kalanick's close friend, is trying to take a loan for purchasing Benchmark's shares.
CEO Search
The search for Travis Kalanick's replacement
Amid the board members' legal tussle and funding negotiations, Uber is also looking for Kalanick's replacement.
A 14-member committee led by Arianna Huffington, Kalanick's close friend, is considering General Electric Chairman Jeffrey Immelt as a serious candidate while three others also remain on the list.
Recently, Kalanick said he wouldn't be returning as the CEO but may join Uber in an advisory role.