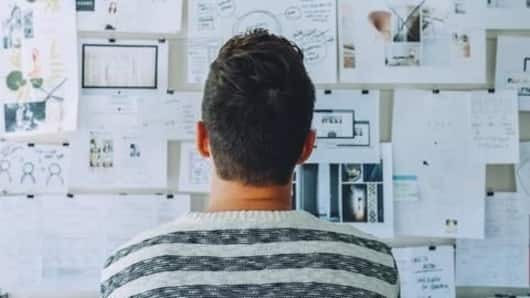 #CareerBytes: How to train yourself to become an entrepreneur?
Entrepreneurs are considered the building blocks of economic growth and advancement. Nowadays, becoming an entrepreneur has become a preferred career choice for many youngsters.
However, becoming an entrepreneur is not easy. One needs to have the right skills and the mindset to become an entrepreneur and be successful at it.
If you want to become an entrepreneur, here's how you should train yourself.
Identify a field, develop a business idea, ensure proper execution
Those who want to become entrepreneurs should first identify a field in which they want to get involved.
To develop entrepreneurial skills, one can get involved or work with other entrepreneurs in the field, and attend related entrepreneurial events/seminars.
They should research the market and analyze for demand and need to develop an idea for their business and ensure that it is properly executed.
Motivate yourself to work hard, learn to be flexible
To become a successful entrepreneur, one should motivate themselves to work hard and give it all they got.
It is also important for them to be flexible. Executing their business idea may look easy initially, but there could be several internal/external factors that affect the same. In such situations, they should be flexible to adapt to new ideas or plans to ensure success.
Love Career news?
Stay updated with the latest happenings.
Yes, notify Me
#3: Accept failure, learn from mistakes, and develop resilience
To be a successful entrepreneur, it is also important to accept failure and be resilient. Successful entrepreneurs are known to be hugely resilient. Despite multiple failures, successful entrepreneurs learn from their mistakes and start over with more knowledge and better chances of success.
Improve problem solving skills, develop a risk-taking behavior
While being an entrepreneur gives an opportunity to become one's own boss and be independent, it comes with its own challenges and setbacks. In order to overcome these challenges, one must improve their problem-solving skills and be resilient to obstacles.
Also, one must develop a risk-taking behavior to become a successful entrepreneur as taking calculated risks is important to achieve success.
#5: Focus on learning new skills, develop good communication skills
Entrepreneurs need many skills and tools to maintain their business. So, one must focus on learning new skills relevant to their field to work towards improvement. One must also develop excellent communication skills; successful entrepreneurs are known to be good communicators and great at networking.