Delhi
Delhi: Man dupes Amazon 166 times; orders phones, claims refund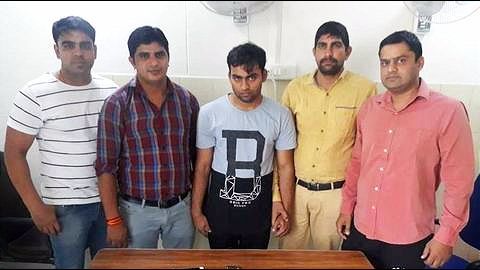 A 21-year-old Delhi resident, Shivam Chopra, has been arrested for duping e-commerce website Amazon as many as 166 times, making at least Rs. 52L in April-May this year.
Delhi Police said he bought 166 expensive smartphones from Amazon separately. He used to demand a refund each time claiming he received an empty box.
25 phones have been recovered from him so far.
Read more!
In context:
Delhi man makes Rs. 52L by cheating Amazon
11 Oct 2017

Delhi: Man dupes Amazon 166 times; orders phones, claims refund
DCP (north-west) Milind Mahadeo Dumbere's statement
Love Delhi news?


Stay updated with the latest happenings.
Details

Shivam Chopra's friend also arrested: Police
Shivam's friend, 38-year-old Sachin Jain owns a small telecom store.
Sachin supplied nearly 150 pre-activated SIM cards to Shivam to help him place the orders on Amazon in different names.
Shivam would get the phones delivered and claim a refund, after which he would sell the received phones on online marketplaces or Delhi's notorious Gaffar Market.
Police said they have also arrested Jain.
Purchases made through gift cards

Amazon claimed Shivam placed 166 orders for mobile phones; all of them were purchased using gift cards. DCP Dumbere said: "He cancelled the order to claim refunds, which were again refunded to him in the form of gift cards."
Plan

Accused gave wrong addresses while placing orders
Shivam Chopra, a resident of Delhi's Tri Nagar, used to place orders using different numbers.
He would give incorrect addresses in the locality so that Amazon's delivery agent would call him in order to locate the house.
Shivam would guide the delivery agent somewhere close to his address and accept the delivery and later register a complaint that he received an empty box.
Graduate in hotel management

Chopra is a hotel management graduate from an institute in Delhi's Rohini. He had been unemployed. It was in Mar'17 that he came up with the plan to dupe Amazon. He ordered two phones for testing; he asked for a refund, which he got.