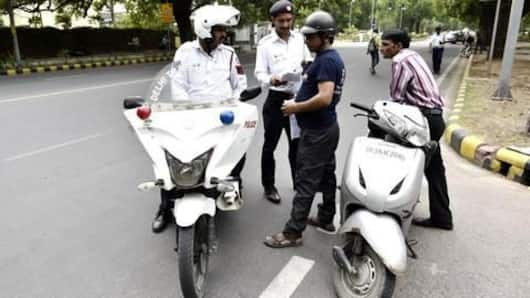 Delhi police to launch drive against traffic offenders
Delhi Police is all set to launch its zero tolerance drive against traffic offenders from February 1.
The city's traffic police will implement the drive in the entire city, but more importantly on the areas where maximum commuters are seen violating traffic rules.
Special Commissioner of Traffic Dependra Pathak said that the drive named 'Focused Prosecution' will slap fines on all traffic offenders.
Aim is to identify majority of trouble spots: Traffic Commissioner
The traffic commissioner said, "This time we are aiming to identify majority of trouble spots, accident-prone spots, crossing violations spots, red-light violation spots, overspeeding spots and wrong driving spots."
He further stated that all traffic Zonal officers and Traffic Inspectors have been directed to identify all such spots.
"We have selected 10 spots and efforts are on to earmark other spots too," Pathak added.
Majority of traffic offenders are bikers
The traffic officials have also been directed for "maximum deployments on roads for enforcing the traffic rules."
Adding that majority of offenders during peak hours are bikers, the commissioner said, "They drive on footpaths, wrong lanes, jump red lights, take illegal U-turns, violate lane driving, and drive on opposite lanes leading to fatal accidents that result in a halt at crossings."