Delhi: Car overturns after hitting divider, two DU students killed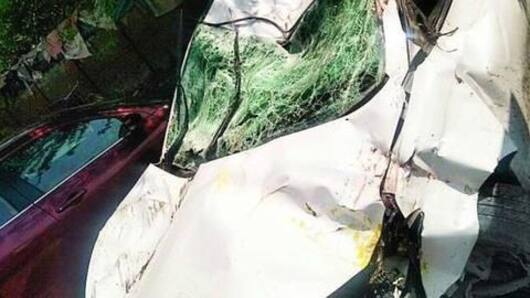 A celebratory ride of five college students in Delhi took a disastrous turn when the woman behind the wheels lost control.
It hit the divider at Hudson Lane in Mukherjee Nagar, killing two of her friends and injuring the rest, including herself.
The incident took place early on Sunday, when the students were returning after attending a fest at Amity University.
In context
Delhi: Car joyride turns fatal, claims two lives
Details
Cops recovered liquor bottles, disposable cups from car
Diksha Dadu, a first-year Amity University student, was driving the Hyundai i20 that belonged to Ritesh Dahiya, a second-year B.Sc student of Sri Venkateswara College, who was seated behind her.
Dadu's friends Joshita Mohanty, Rashi Sharma and Dahiya's friend Siddharth Singh were the other occupants.
All of them were allegedly drunk and speeding. Cops recovered alcohol bottles from the ravaged car.
Alcohol influence
The group was en route to Murthal to eat
Dahiya and Singh reached Noida around 6 PM on Saturday and attended the Amity fest.
Around 8 PM, the two boys and three girls left the varsity campus and reached CP.
They reportedly left a pub in CP around 1 AM, and decided to go to Murthal, 50kms from Delhi, to eat.
One and half hour later, an inebriated Dadu hit the divider.
Love Delhi news?
Stay updated with the latest happenings.
Notify Me
Details
Cops say the car speed was above 100 KMPH
After hitting the divider, the car, believed to be running at 100 KMPH, damaged an iron board, a cement slab and a marble signboard and crashed into a traffic signal.
While Dadu and Mohanty were saved by airbags, Dahiya and Singh died due to the massive impact and Sharma suffered a collar-bone fracture.
All of them were rushed to Sushrut Trauma Centre, Civil Lines.
Sad ending
Both deceased were single child of their parents
Dadu was arrested under various IPC sections for causing death due to negligence (304A), rash and dangerous driving (279) and drunken driving.
"Dadu's learner license also expired in October last year," said DCP Aslam Khan.
As the offense was bailable, she was out of jail by afternoon.
Bodies of Dahiya and Singh, both single children of their parents, were handed over post autopsy.