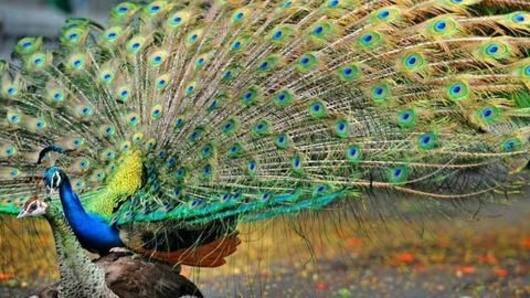 Tricolor burial for peacock? Delhi Police claims it's 'protocol'
Delhi Police took 'honoring' the national bird to a new level.
On May 4, a police team rescued a peacock near the high court, which later died.
Following 'protocol', the police wrapped it in the tricolor and buried it in a wooden box.
But fuming wildlife fraternity pointed out that since peacock is a Schedule-I bird, the forest department should have done its burial.
Was taken to bird hospital, where it was declared brought-dead
The injured peacock was rescued from Gate-5 of Delhi HC and taken to Jain Bird Hospital in Chandni Chowk, where the attending vet declared it brought dead.
It was then taken to Jaunapur in South Delhi for autopsy.
Later, it was given full state honors, said an officer, adding this will be followed in the future too "if a peacock comes in our custody."
Death may be due to fall, sunstroke, animal bite
The autopsy report will come out next week but cops are suspecting the bird sustained injuries after falling from a tree.
Meanwhile, Jain Bird Hospital manager Sunil Jain said that among the 10 peacock cases they receive each month, some die of heatstroke, while many others die of traffic.
Another common cause of death is if an animal bites the bird's legs and back.
Love Delhi news?
Stay updated with the latest happenings.
Yes, notify me
Why are wildlife experts fuming over this?
The burial was conducted in presence of a forest official. However, under the Wildlife Protection Act, 1972, the body of any Schedule-I animal is a state property and its burial should be done by forest officials to prevent smuggling.
Addressing a similar incident, animal-activist Gauri Maulekhi had shot a letter to the forest department last month to apprise all police stations of the Act.
Why do we feel Delhi Police went OTT with this?
Tricolor burials and state honors are usually given to martyrs and important national figures like serving Prime Ministers, union ministers, etc. At times, the state government can also exercise its discretion and accord the honor to an individual, like it was given to actor Sridevi.