Delhi: QR-code containing driver details now mandatory for cabs, autos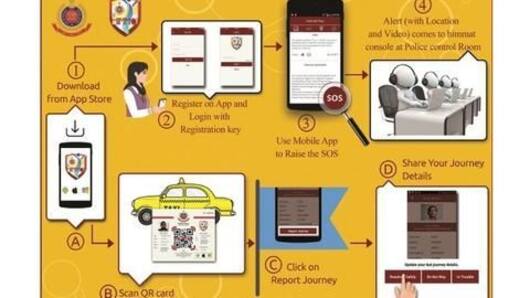 In February, the upgraded 'Himmat-Plus' app was launched with a special feature, whereby commuters would get the driver details by scanning the QR codes of taxis, autos and e-rickshaws.
However, it was only limited to cabs plying to-and-from the airport and five metro stations.
Last month, the transport department decided to make it mandatory for all cabs and autos plying in Delhi by mid-June.
In context
Delhi: QR code mandatory for all taxis, autos
Details
QR code to be displayed prominently behind driver's seat
The department has already started working on this with the Delhi traffic police, who has details of over 3,000 drivers for now.
A penalty of Rs. 5,000 will be charged if permit holders defy the rule, officials said.
The QR-code will be displayed prominently on the headrest of driver's seat.
It'll contain details like driver's photo, name, phone-number, address and the vehicle's registration number.
Working
Press 'report journey' if you feel unsafe: Cops
In case the commuter feels unsafe, she/he can press 'report journey' button after scanning the machine-readable code.
The Himmat dashboard would flash an alert and a team of police personnel will track the vehicle and send text messages to the commuter every 5-minutes to ensure his/her safety.
It was initially launched in 2015, but didn't find many takers because it wasn't user-friendly.
Love Delhi news?
Stay updated with the latest happenings.
Notify Me
Reasons
This rule should have been implemented much earlier. Here's why
This rule should have been in place since earlier, when Uber driver Shiv Kumar Yadav raped a female passenger in 2014, maligning the cab-aggregator's image.
In April this year, a 24-year-old Uber driver was arrested for masturbating in front of a 40-year-old woman passenger.
Ola isn't safe either, with a Belgian woman alleging in 2016 that her cabbie forcibly kissed her in CR-Park.