Delhi: Navrasa Duende's 'Classic Movie Festival' 2nd edition begins June-22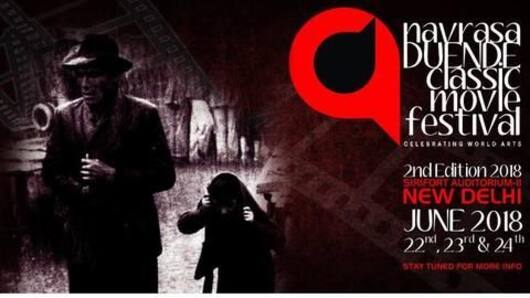 Movie enthusiasts in Delhi are in for a visual treat as they can now watch their favorite classic films on the big screen at an upcoming film festival.
The second edition of Navrasa Duende's "Classic Movie Festival" set to begin on June 22, will feature not just blockbuster classics, but also films that were considered to be milestones of the neo-realistic cinema movement.
In context
Navrasa Duende's 'Classic Movie Festival' coming soon
Classics
Films include Satyajit Ray's musical 'Jalsaghar' among others
Films like Akira Kurosawa's Japanese thriller "Throne of Blood", Vittorio De Sica's Italian crime-drama "Bicycle Thieves", and Satyajit Ray's Bengali musical "Jalsaghar" among others, will bring together various dialects and cultures on a single platform.
Organizers hope to pass on romance through romantic dramas like Ingmar Bergman's "Wild Strawberries" (Swedish), Victor Fleming's "Gone With The Wind" (English-American), and David Lean's "Doctor Zhivago" (British-Italian).
Decades of love
"The timeless themes and memorable characters in these films have captured the hearts and imagination of viewers for several decades now," Dinesh B Singh, Founder, Navrasa Duende, said.
Love Delhi news?
Stay updated with the latest happenings.
Notify Me
Details
The festival will be closing on June 24
"We're sure the films will also delight those exploring different genres of world cinema," Dinesh said.
Other films to be screened include Norman Jewison's comedy "Fiddler on the Roof", Marcel Carne's "Children of Paradise" (French), and Andrei Tarkovsky's Russian war film "Ivan's Childhood".
The festival, to be hosted at the Siri Fort auditorium in Delhi, will come to a close on June 24.