In one year, Delhi lost 1,584 people in 6,673 road-accidents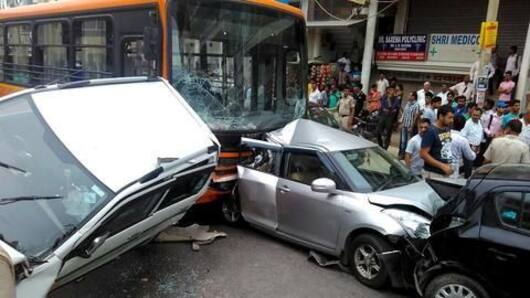 A whopping 1,584 people were killed in 6,673 road accidents in Delhi in 2017, with Mukundpur Chowk in North West Jahangirpuri topping the list, said Transport Minister Kailash Gahlot.
Burari Chowk, Jahangirpuri Bus-stand, Azadpur Chowk and Delhi Gate were among the other 10 'black spots,' where a large number of accidents are witnessed.
Eight of these come under NDMC, while two belong to EDMC.
In context
Delhi roads see a spike in accidents, deaths
Blame-game
Delhi traffic police blames PWD, top cop ensures measures taken
Joint commissioner of police (traffic) Garima Bhatnagar said accidents happen because of two reasons: bad roads and rule-breaking drivers and pedestrians.
She assured extra forces have been deployed in vulnerable spots.
In 2016, Delhi Traffic Police had compiled a list of 137 accident-prone stretches and shared it with the PWD for construction and maintenance.
But the department did nothing about it, police say.
Details
Municipal bodies blame both PWD and traffic police
Meanwhile, the two civic bodies in the dock too blamed PWD, while emphasizing that the traffic police department should also follow-up with the organization on road repair work.
"Our work is limited to conducting repair work. The construction and enforcement of traffic rules is the responsibility of PWD and police respectively," said a senior municipal official.
Love Delhi news?
Stay updated with the latest happenings.
Notify Me
Solution?
Transport Minister Gahlot claims policy is being prepared
As a tangible solution to the rising accident cases, Bhatnagar said a comprehensive road-safety plan, which has been in the making since long, will be implemented soon.
Gahlot informed the draft has already been sent to stakeholders, inviting suggestions.
PWD, one of the stakeholders, said customized solutions for accident-prone zones are being incorporated in the plan.
However, road safety experts shot down the claims.
Experts opined
'Some road issues are obvious, can be repaired sans policy'
Some road issues are so obvious that it doesn't need a policy, said experts.
Mukundpur-chowk, for instance, sees maximum crashes because people coming from Arihant Marg don't have a smooth curvature joining the main road. Hence, many lose control of their vehicles.
Moreover, many footpaths under NDMC need repair, as do open drains.
During monsoons, because of these, road-space shrinks, aggravating motorists' woes.