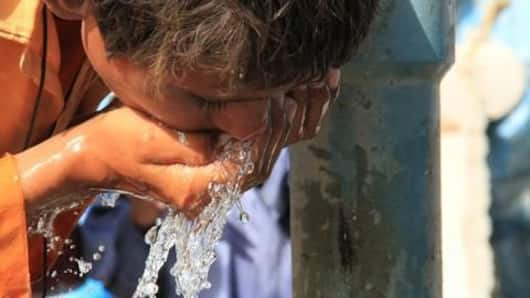 Delhi: Kejriwal plans to avert water crisis through sewage water
In an effort to prevent a water crisis in Delhi, Chief Minister Arvind Kejriwal has decided follow Singapore's 'new water policy' to treat sewage water and make it use-worthy.
This will help augment water supply by 15-20% in the next couple of years, said Kejriwal.
He announced this while inspecting Asia's largest sewage treatment plant at Coronation Park in North Delhi yesterday.
Kejriwal shares plan: By June'19, Delhi to get 70mgd water
"DJB (Delhi Jal Board) has an installed water-capacity of 900mgd (million gallons/day) and we'll start using 70mgd water from Coronation Park treatment plant (in Burari) by June 2019 as a start," Kejriwal said.
As per plan, the treated sewage water will travel upstream to Palla barrage near the Delhi-Haryana border.
There it'll mix with Yamuna river and travel 11kms downstream, going through natural purification.
Wazirabad plant will refine the water further to give 'new-water'
After that, Wazirabad plant will refine the water and make it 'new water'.
"In second phase, 40mgd water will be diverted from Rithala by December 2019 and another 40mgd by June 2020. It will be an overall improvement of 150mgd," Keriwal added.
Earlier in 2015, DJB tried to start "Toilet to Tap" project in Keshopur, but it couldn't take off due to people's resistance.
Love Delhi news?
Stay updated with the latest happenings.
Yes, notify me
To utilize 605mgd, consultants have been hired
For this project, consultants have been hired, who'd study ways to utilize the 605mgd coming from 36 sewage-treatment plants.
Kejriwal, sounding serious about preventing an impending water crisis in the national capital, promised that in five years, water supply will improve by 50%.
Two plants at Dwarka (50mgd) and Chandrawal (140mgd) have also been approved for providing 'new water' by February 2020.
200 lakes to be rejuvenated, Ganga Canal to be repaired
Among other plans, 200 lakes will be rejuvenated, where borewells will be installed along the periphery.
"The water will percolate to the ground and improve the groundwater levels in the vicinity," he said.
The Ganga Canal carrying Ganga water from UP will be repaired to help prevent wastage. With UP government agreeing to supply the saved water, Delhi will get around 150mgd of water.
Good move, but challenging for DJB
Experts lauded the move but warned it might be challenging for DJB.
"Carrying water against slope would be an expensive affair," said Jyoti Sharma, founder of FORCE, a water conservation and policy organization.
However, "If norms are followed and they are able to implement, hats off to them," she said.
Meanwhile both Delhi BJP and Congress have criticized AAP for playing with people's emotions.