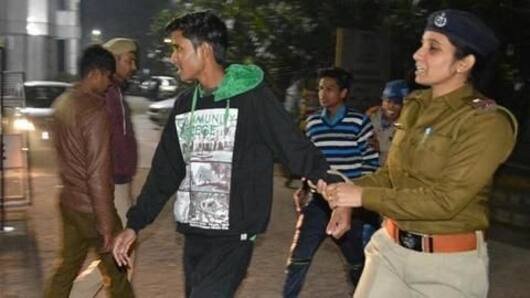 Gurugram Police re-launches Operation Romeo after two years, 125 held
After almost two years, the Gurugram Police revived their 'Operation Romeo'.
This time, they held 125 people for unlawful activities, and while 11 were arrested, others were left with a strict warning.
For the uninitiated, Operation Romeo was launched in 2016 to catch eve teasers from public places.
However, it was stopped after the Gurugram police was accused of troubling innocent people as well.
A team of 100 personnel was deployed from 8pm-3am
To carry out the operation, a team of 100 personnel, dressed in uniform and plain clothes, was deployed across Cyberhub, MG Road, and Sector 29, from 8 pm to 3 am on Sunday.
They arrested 11 people under the Excise Act for creating a ruckus in the drunken state.
Others were left with a stern warning that if held again, they will face consequences.
Gurugram police shared details of the operation on social media
Love Delhi news?
Stay updated with the latest happenings.
Yes, notify me
'Operation re-launched to ensure women don't face any harassment'
The team of personnel was led by Assistant Commissioner of Police (Crimes against Women), Usha Kundu, to catch the hooligans.
The operation was re-launched after Gurugram police received multiple complaints regarding unlawful activities, and "was taken to ensure that women don't face any kind of harassment," said Kundu.
She added that anti-eve teasing squads have been set up at all police stations across Gurugram.
When operation was initiated in 2016, cops received mixed reviews
Back in 2016, when the operation was initiated, several people who were in custody then claimed that they were innocent and didn't indulge in any unlawful activity.
A documentary filmmaker asserted that he got down from his car to buy water, when cops took him in.
While talking to The Hindu, he said, "They took our phones and did not (even) inform our families."
What is Operation Romeo?
Asked 2019-03-07 00:22:08 by Arjun Balasubramanium
Answered by NewsBytes
Operation Romeo is an initiative by the Gurugram Police to keep track on the hooligans indulged in unlawful activities like, eve-teasing.It was first launched in 2016 and re-launched in 2019.
What does the Crime against Women branch does?
Asked 2019-03-07 00:22:08 by Cheshta Sarin
Answered by NewsBytes
Crime against Women is a part of the police which looks into the issues of eve-teasing, rape, sexual harassment at work, domestic violence, dowry harassment and living alone. The department is dedicated to the above issues.
Are innocent people troubled during Operation Romeo?
Asked 2019-03-07 00:22:08 by Saanvi Chavan
Answered by NewsBytes
The police launched the initiative to catch the hooligans and roadside ruckus creators. However, locals often claim that innocent people are also dragged into this many times.
Who are arrested under Excise Act in such cases?
Asked 2019-03-07 00:22:08 by Trishla Powar
Answered by NewsBytes
People are arrested under Excise Act when they create chaos under the influence of alcohol.