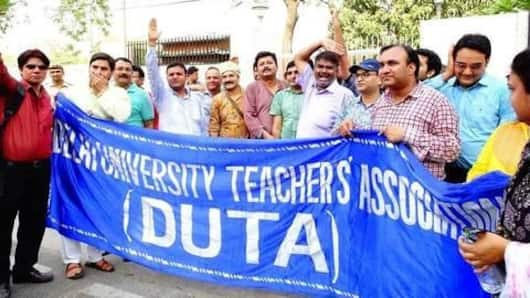 Delhi University Teachers' Association withdraws strike: Details here
The Delhi University Teachers' Association (DUTA) decided to withdraw its strike on Friday and said it would intensify its struggle against the Vice-Chancellor through other means.
The teachers' body has been fighting for absorption of teachers working in temporary/ad-hoc capacity and seeking the removal of the University's Vice-Chancellor Professor Yogesh Tyagi.
Read all about the issues and protest here.
Strike called off, but fight is far from over
DUTA said it will continue to pursue its demands through intense struggle and will campaign against anti-education policies, "assault on teachers by the government" and the VC.
The body also wants that the 200-point roster, which was replaced by the 13-point roster, should be restored.
DUTA has been protesting for a long time. Many students and teachers bodies also came out in their support.
What's the difference between 200-point and 13-point roster?
Under 200-point roster, the college is considered as one unit and 99 out of 200 posts are reserved. Under 13-point roster, a department of the institution is considered as one unit and reserved posts are calculated after dividing 100 by granted reservation to each category.
Love Delhi news?
Stay updated with the latest happenings.
Yes, notify Me
In January, 20 teachers sat on strike demanding better pay
Earlier this year, around 20 ad-hoc/temporary teachers went on strike in front of the Faculty of Arts and demanded absorption. There are around 4,600 ad-hoc teachers in DU.
They want the same facilities as the permanent teachers and claim that they have been working without increment for years now.
Academics for Action and Development's President, Aditya Narayan Misra, also supported their previous strike.
Years gone without any leave or increment: Misra
"We are sitting outside the Faculty of Arts gate. It's difficult, but we are supporting each other. We demand the absorption of ad-hoc and temporary teachers in Delhi University. These teachers have been working for years without any leave, maternity leave and increment," Misra said.
Notably, SC upheld Allahabad High Court's decision on roster
In April 2017, the Allahabad High Court changed the faculty reservation system from 200-point roster to 13-point roster. The HC found the earlier system faulty under Article 14 (equality before law) and Article 16 (equality of opportunity).
In January 2018, the Supreme Court of India upheld the Allahabad Court's decision.
Since SC's orders, a storm arose among the aspiring teachers and other concerned people.
Why is DUTA protesting?
Asked 2019-03-09 18:13:47 by Ananya Singh
Answered by NewsBytes
DUTA is protesting for the benefit of faculties both permanent and ad-hoc.
Which roaster does DU uses for faculty recruitment?
Asked 2019-03-09 18:13:47 by Shreyas Rangan
Answered by NewsBytes
After the court's order in 2017, DU uses 13-point roaster system.
What is the latest news on DUTA protest?
Asked 2019-03-09 18:13:47 by Aarav Rangarajan
Answered by NewsBytes
As if now, DUTA has called off the strike. However, they are determined to protest.
Who is the president of DUTA?
Asked 2019-03-09 18:13:47 by Chirag Dutta
Answered by NewsBytes
Currently, Rajib Ray is the president of DUTA. He is from the Department of Philosophy in Kirori Mal College.