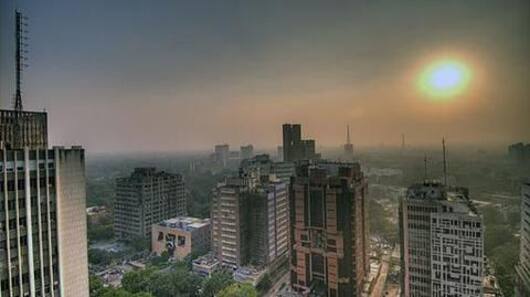 What happened in the Capital today?
With the workers of the East Delhi Municipal Corporation still on strike, civic-employees of the North Delhi Municipal Corporation also started their strike today.
In another news, digital payments at the Kherki-Daula toll have increased the transaction time by double.
Also, Kalpana Chawla will be felicitated with a Special Achievement Award on 11th January.
Tap in to know what all made news in Delhi.
Civic staff from North Delhi to go on strike
As garbage continues to pile up in east Delhi, numerous employees of the North Delhi Municipal Corporation are set to go on strike from today.
The staff, including sanitation workers, engineers and administrative employees are going on a strike due to non-payment of salaries.
Out of 57,000 employed under the north corporation, approximately 30,000 are going on strike.
Rahul Matta served a jail term for molestation
Rahul Matta, the ex-merchant navy employee who murdered his father and blew up a flat on Monday, was discovered to be psychologically unstable.
According to reports, he was dismissed from the merchant navy after serving a jail term for molesting a colleague's wife.
In Delhi, his misdemeanours with women continued and he also often beat his parents, blaming them for his anguish.
Love Delhi news?
Stay updated with the latest happenings.
Yes, notify Me
Paying digitally leads to double transaction time
The Kherki Daula toll plaza has adopted digital transactions, turning the halting time from 20 seconds to 55 seconds per vehicle in the last 30 days.
Increasing number of people opting for digital payments has increased the burden of employees at the toll, also causing congestion.
Prior to the demonetization announcement, digital payments were negligible; now they make up 8% of the total payments
Honest policeman goes viral on Facebook
54-year-old Delhi Police sub-inspector Madan Singh trended on Facebook on Monday, after an east Delhi businessman shared his story.
Jagreet Singh, a resident of east Delhi lost his wallet on Monday morning; traffic cop Madan Singh contacted Singh, returning his wallet with Rs.35,000 and $300 in it.
Singh was offered Rs.5,000 for his honesty. He refused saying that what he was doing his duty.
Noida entrepreneurs association wants more banks
The Noida entrepreneurs association (NEA) wants the Noida authority to enhance banking services in the industrial sector.
Industrial unit owners want a change in policy which will allow more banks to provide services.
After demonetization, 4 lakh workers employed in Noida's 800 industrial units are yet to open bank accounts to get their salary through cheques or real time gross settlement (RTGS) fund transfer.
Kalpana Chawla to be honoured at first Haryana Pravasi Diwas
Kalpana Chawla, the first woman of Indian origin to go to space will be awarded the Special Achievement Award on 11th January at the first Haryana Pravasi Diwas.
Her father BL Chawla will receive the award.
Haryana Pravasi Diwas is the first event for non-resident Indians of Haryanvi origin held to connect with their roots and draw investments in the state.
Garbage in east Delhi keeps piling on
With the sanitation workers of East Delhi Municipal Corporation (EMDC) on strike, the garbage in the city continues to pile on.
According to reports, apart from the sanitation staff, even private sweepers engaged for door-to-door collection haven't turned up.
The Delhi government has released Rs.119 crore to the civic body, but workers say that the amount isn't enough even for a month.
Yamuna Expressway authority to hand over residential plots
The Yamuna Expressway Industrial Development Authority will handover the possession of 1,600 residential plots of the 21,000 offered by March.
The plot scheme was offered in 2009 when plots ranging from 300 sqm to 4,000 sqm were offered for Rs.4,750/sqm.
Possession of the plots was failed to deliver for 8 years, as YEIDA was facing a land acquisition case at the Allahabad HC.