Delhi woman threatens suicide after challan; cops let her go
Delhi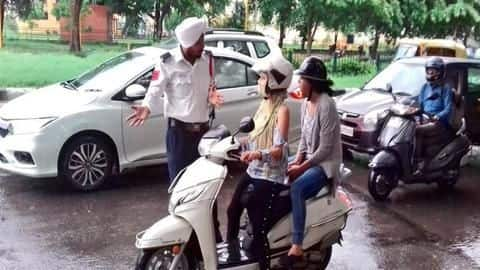 In a bizarre incident, a Delhi woman threatened suicide after traffic police stopped her and imposed a hefty fine for multiple traffic violations.
According to reports, the incident occurred in Delhi's Kashmiri Gate during peak hours on Saturday.
After the woman continued to stir drama and threatened suicide, the cops let her go.
A video of the incident has also gone viral.
Details
Woman was stopped for using earphones; broken number plate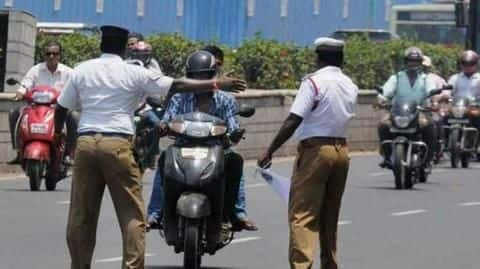 The woman was stopped by Delhi traffic police for driving her scooty with her earphones plugged in and having a damaged number plate.
The woman then said that the cops shouldn't bother a woman and threatened to hit a policeman with her helmet.
Incidentally, the cops then pointed out that the helmet did not have a safety strap and hence amounted to another violation.
Suicide threat
Woman tried to escape; threatened suicide later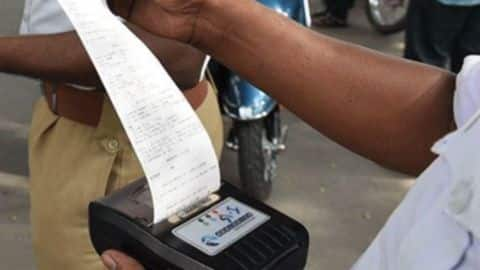 Seeing that the cops weren't letting her go, the woman started her scooty in a bid to escape, as the cops advised her not to do so.
The cops listed that the violations led to a challan amounting Rs. 40,000-1,00,000.
She burst into tears and said she wasn't feeling well. She said she could not afford to pay for the challan and threatened suicide.
Information
Heated exchange continued for 15 minutes; cops let her go
Initially, the cops remained unfazed by the suicide threats. However, as the high drama continued for around 15 minutes, the cops left her with a warning. Meanwhile, a crowd had gathered to watch the heated exchange between the woman and the cops.
Recent events
Hefty challans a menace since amended MV Act hiked fines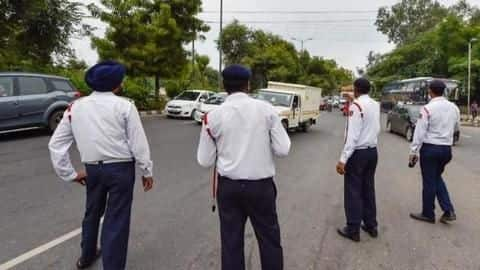 Ever since the amended Motor Vehicles Act sharply hiked fines for traffic violations, hefty challans have become a menace.
Last week in Delhi, a truck driver was slapped with a fine of Rs. 2 lakh for multiple violations near Mukarba Chowk.
The same week, another truck driver had paid a fine of Rs. 1.41 lakh at Rohini court in New Delhi on Monday.
Information
Delhi not planning to dilute penalties as of now