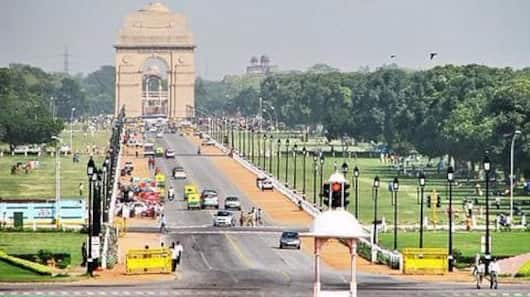 Now, mobile games will promote road safety in Delhi
New Delhi's traffic police will make use of mobile and computer games to promote road safety awareness among students of Classes VI to VIII.
Joint Commissioner of Traffic Garima Bhatnagar addressed 'Watch the Road', an annual conference of IIT students; she also sought their help for developing these games.
Read along to know about today's news from Delhi.
NO2 level in Gurugram's air 8 times over normal
Credits:
Nitrogen dioxide levels increased 8 times their accepted levels in Gurugram on the weekend.
For the first time in several months, the 24-hour concentration of nitrogen dioxide crossed the 600-mark.
It was reported at 673.73g/m3 on Saturday, whereas it shouldn't have exceeded more than 80g/m3.
Air Quality Index (AQI) was at 150, the 'unhealthy' zone.
Delhi HC will pronounce judgment on nursery admissions
Delhi HC is expected to announce its judgment on the nursery admission notification of the government.
The court was moved by the government after a judge ordered an interim stay on the same.
This order followed petitions filed by parents and two school groups challenging the government's notification which stated that nursery admission forms should be accepted on the basis of students' neighbourhoods.
Love Delhi news?
Stay updated with the latest happenings.
Yes, notify Me
AAP's mohalla clinics to get supervisors
AAP has now planned to recruit volunteers for monitoring the mohalla clinics in their neighbourhoods; approximately 5-10 volunteers are being sought for every clinic.
In recent months, Delhi government's vigilance department received complaints that doctors working in Mohalla clinics were treating 533 patients in 4 hours.
According to an official, volunteers will check whether doctors come on time, give accurate consultation etc.
Jat agitators hold Black Day amid heavy security
On Sunday, demonstrators of the Jat agitation observed Black Day in Gurugram, as talks between Jat leaders and the government are currently on pause.
Approximately 600 people came together at a sit-in site near Daultabad flyover on Sunday, wearing either black clothes or a black armband.
Despite of no anticipation of tension, heavy deployment of police was made throughout the district.
Elder brother murdered for refusing to give Rs.20 for alcohol
Credits:
According to reports, a man stabbed his older brother to death after being refused Rs. 20 for buying liquor in northwest Delhi's Swaroop Nagar.
The police received a call from a hospital about a man identified as Bunty, brought there with knife injuries.
The accused, Pankaj, is an alcoholic and has been arrested.