Shazia Ilmi accuses Jamia University of dropping her from speakers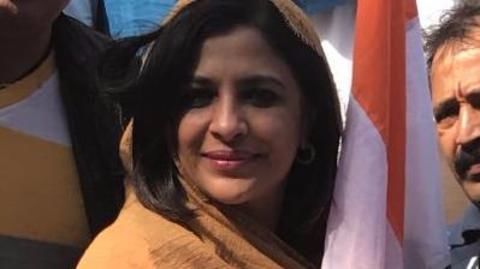 On Wednesday, BJP leader Shazia Ilmi accused Jamia University of dropping her name from a speakers' list for a seminar on triple talaq.
She alleges that the university pressurized the organizers of the event organized by the RSS-supported Forum for Awareness of National Security.
She further accused the university of changing the seminar-subject from 'Triple Talaq' to 'Muslim women's empowerment - Issues & Challenges.'
In context
News from the National Capital
Crime
Woman allegedly burned to death after being 'declared' dead
A 21-year-old woman was declared dead by Sharda Hospital in Greater Noida but a 2-doctor-panel declared the cause of her death as "shock caused by being burnt alive."
She was cremated by her husband on Monday at 8 am; her uncle has lodged an FIR against him and his family for raping and killing his niece.
The accused remain absconding with no arrests made.
Student Politics
2 ABVP members arrested for attacking JNU students
Minutes after a protest march against ABVP was finished, two students allegedly belonging to the party were arrested for attacking two other Jawaharlal Nehru University students.
According to the JNU students, they were being followed from Patel Chest and were attacked near Khalsa College.
A senior police officer said that the two held were charged for causing hurt and wrongful restraint.
Love Delhi news?
Stay updated with the latest happenings.
Notify Me
Environment
Now, East Corporation to charge for construction and demolishing waste
A day after the South Delhi Municipal Corporation passed the same resolution, the East Delhi Municipal Corporation will levy construction and demolition of waste charges while approving building plans.
At the time of approval, the EDMC will impose a processing fee of Rs.375 per tonne and Rs.275 for carrying the debris from the construction site to the processing plant at Shastri Park.
JNU
Delhi Police fails to convict Kanhaiya Kumar of sedition
Delhi Police has failed to prove Kanhaiya Kumar guilty of the sedition charges slapped on him in February 2016.
The draft chargesheet filed in the case is indicative of the same; it has no mention of Kanhaiya Kumar chanting anti-india slogans but mentions that Kanhaiya did nothing to stop the same.
The police has left the decision of charging Kanhaiya to the court.
Gurugram
University students protest against high fees, substandard facilities
Hundreds of students of Ansal University from Sector 55 protested on Tuesday against "extra fees and fines being collected by the university, while not providing promised facilities."
Some of the student protestors also burned their marksheets, alleging that they aren't receiving any placement jobs.
The university termed the students as non-performers who are yet to clear their examinations.
Noida
Now, city bus users will have their own mobile app
The Noida Metro Rail Corporation (NMRC) is planning to launch a mobile application for its city bus service by the end of March.
Facilities like bus timings, e-wallet payment facility, bus routes, bus stops as well as route tracking services will be provided by the app.
The Uttar Pradesh State Road Transport Company (UPSRTC) has directed a Lucknow-based company, Trimax to design the app.