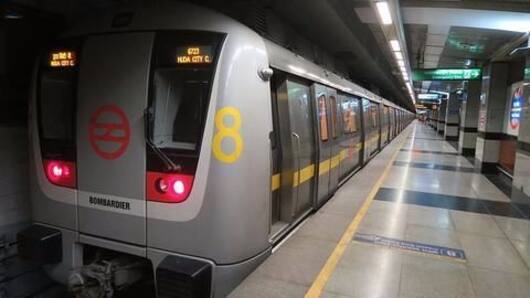 Delhi: Elderly Muslim man humiliated, told 'go to Pakistan'
Youths on the Delhi Metro denied an elderly Muslim man a seat, and hurled insults at him over his appearance.
The senior citizen walked up to two youths that were sitting on a senior citizens' seat and requested them to vacate it.
The youths instead told him to go to Pakistan if he wanted a seat.
For more news from Delhi, read on!
Wedding cancelled due to 'different' groom
A family from Ghaziabad has complained that the groom that was to marry their 22-year-old daughter was not the one they had fixed her alliance with.
According to the complaint, the family had seen the groom only in a photo when the alliance was being fixed.
The family further alleged that the groom's family demanded Rs. 1 lakh in dowry.
7 Delhi schools notified by CBSE for breaching bylaws
The Central Board of Secondary Education in March-April itself issued 44 showcause notices to schools violating its examination and affiliation bylaws.
Delhi comes second with 7 of its schools being notified; Haryana is first with 19 schools.
The board has given schools 30 days to reply as to why no action should be initiated against them.
Love Delhi news?
Stay updated with the latest happenings.
Yes, notify Me
Kherki Dhaula toll plaza will now have female operators
Credits:
10 women have been deployed at the Kherki Dhaula toll plaza to reduce frequent arguments between motorists and the male toll operators.
This batch of female employees is from Varanasi and started working on Monday; there is another batch expected to arrive in two days.
Skylark Group, the operators, allow them an hour long lunch break and two 15-minute breaks.
Gurugram: Residents block roads, protest against DISCOM
Gurugram residents on Monday blocked the Sector 49/50 dividing road from Sohna Park towards Park hospital, after being infuriated with power cuts for three consecutive days, which also affected water supply to South City-2.
Residents have demanded that Dakshin Haryana Bijli Vitaran Nigam (DHBVN) restore electricity immediately to the Q-1 block of South City-2.
3,000 people from 800 flats have faced acute water shortage.
AIIMS-prescribed drugs unavailable at hospital store
Credits:
In a letter to the AIIMS director, the Resident Doctors' Association (RDA) said that AIIMS' on-campus store, supposed to make free generic medicines available, doesn't have 53 of the most-prescribed drugs by the Institute.
The RDA also alleged that despite several reminders, no efforts have been taken to rectify the situation.
The association further recommended opening up of multiple medicinal stores inside AIIMS.