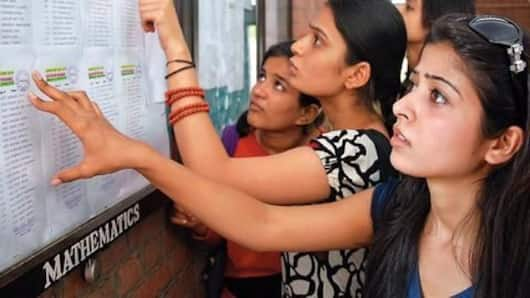 DU: Third cut-off list to be released on 7th July
Many Delhi University colleges will release their third cut-off list on Friday, a drop of up to 2% in most courses is expected.
Seats are still available in the sought after courses such as BA programme, BCom and Economics (Hons) programme.
The last date for admissions under the third list is July 10.
Keep reading for more news from Delhi.
Delhi govt agrees to pay taxes for proposed Metro Phase-IV
The funding tussle between Centre and Delhi CM Arvind Kejriwal led-government for the proposed Metro Phase IV project is over now with the city government agreeing to pay its share of taxes which amount to Rs. 3,098 crore.
According to a source, "The CM made it clear that it should not look like the metro project is getting delayed because of the AAP government."
Armed robbers gun down man in front of family
A man was gunned down by bike-borne men in front of his wife and two minor sons during an alleged robbery attempt near Modi Nagar.
The man's wife said, "They wanted my husband's mobile. He said he will take out the SIM card first. But they fired a shot which hit his abdomen."
The victim was rushed to hospital where he died of injuries.
Love Delhi news?
Stay updated with the latest happenings.
Yes, notify me
Security to be deployed to save Yamuna banks from encroachment
Credits:
The DDA will install night vision cameras along Yamuna banks and deploy security agency to patrol the floodplains to keep an eye on encroachment and dumping of debris.
An official said, "If any vehicle is spotted trying to dump wastes, we will warn them. In case the vehicle refuses to budge, information would be passed on to the police control room for further action."
Ballabhgarh lynching: Haryana police raises reward for info on killer
Unable to trace the man who allegedly stabbed Junaid and hurt his brothers in a train, Haryana police raised reward money to Rs. 2 lakh for any information about the killer.
A railway police official said, "We have been working to trace the man who stabbed the brothers. We urge the people who may have been on the train to help us identify him."
Traffic police's new route diversions decongest HUDA City Centre
In a bid to decongest the HUDA City Centre junction, the traffic police enforced a new route by placing traffic cones to block direct routes between HUDA City Centre-Signature Tower and Signature Tower-Sector 44.
The plan worked on Tuesday with commuters passing through the usually choked points without much delay.
If it proves to be successful, traffic police may make it permanent.
Delhi: Study says rapist known to victim in most cases
A study by Prayas Institute of Juvenile Justice revealed that 96% of rape/molestation accused were related to victim or known to them in 2016- a rise by 12% since 2014.
Union minister of women and child welfare Maneka Gandhi said, "We have found that these crimes are committed either by relatives, neighbours, cousins or the ones who are in a position of authority."