Noida: Fatal accident as Dzire tries to overtake Lamborghini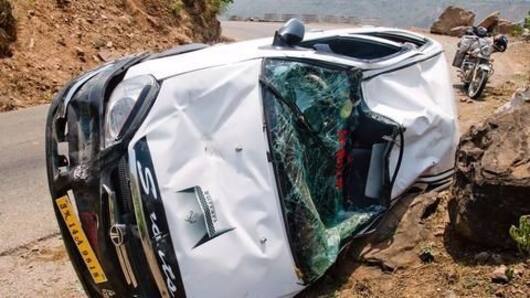 A fatal accident involving three cars claimed life of one driver on Noida Expressway.
As per CCTV footage, a Swift Dzire hit a Lamborghini while changing lanes suddenly. In order to evade Dzire, Lamborghini's driver turned to his left and ended up hitting a Maruti Eeco van.
The van driver lost control which led to car's toppling.
Tap in for more from Delhi-NCR.
In context
News from Delhi this Monday!
Education
Delhi University to declare sports quota list on July 13
Delhi University will declare its merit list under the sports quota on July 13.
The candidates who get selected will have to go to individual colleges and get themselves registered for admission, as the process for admission under this category is not centralized.
DU will release three lists this year.
Over 12,000 students applied for 2,600 seats in this category.
Civic news
Authorities rework on the link between East-West Delhi
In a bid to boost connectivity and reduce congestion between East and West Delhi, the Public Works Department (PWD) is reworking on East-West Corridor project.
According to PWD officials, a tunnel between the New Delhi Railway Station and New Rohtak Road is being suggested as the area is very congested.
The proposal will be reworked on and presented before Delhi L-G Anil Baijal.
Love Delhi news?
Stay updated with the latest happenings.
Notify Me
Gurugram
Construction sites penalized Rs. 1.5 crore for violating pollution norms
At least Rs. 1.5 crore has been collected as fines from construction sites by pollution-control authorities of Haryana and Uttar Pradesh for flouting pollution norms.
The ongoing construction projects affect the air quality of cities like Gurugram.
The Haryana State Pollution Control Board will launch a drive on construction sites in order to keep a check on violators.
Civic news
Satellites to keep an eye on land encroachment in Delhi
The Delhi Development Authority (DDA) will take the help of National Remote Sensing Centre (NRSC), an arm of the Indian Space Research Organization (ISRO) to monitor city's vacant plots via satellites and keep a check on encroachment.
A pilot project will soon start in East Delhi.
As per DDA estimates, 30% of city's 5,000 vacant acres has been encroached upon.
Crime
CBI books travel agent for sending workers without work permits
Based on a complaint from external affairs ministry, CBI booked Lajpat-Nagar based travel agent Roshan Fernando for allegedly sending people to China without valid work permits.
The complaint was filed by Nepalese woman, Purnima Thapa, who paid over Rs. 1 lakh to Fernando for a job. But she was sent back to Nepal by Chinese authorities after she was found without valid work permit.
Crime
Delhi: 2 minors, mentally-challenged woman raped
Delhi was shamed yet again after three rape incidents came to light this Sunday.
In one incident, a minor was raped by her father's friend in Central Delhi while in the other case, a minor was raped by a 36-year-old man in Kamla Market.
In the third incident, a 38-year-old mentally challenged woman was allegedly raped by a cab driver.