Delhi: Chased by 'power thieves', engineer dies in car crash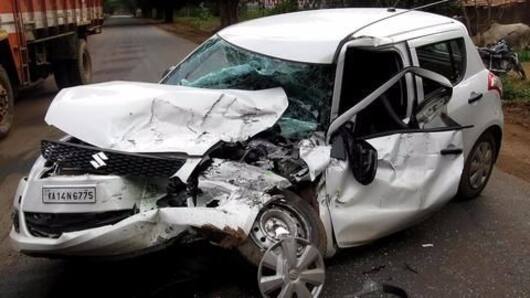 While escaping the mob armed with rods at Jhuljhuli village, a BSES engineer was killed and his four colleagues were injured as their car crashed into a tree near Najafgarh.
The team had gone there to inspect power theft complaints. That's when the 'power thieves' gathered. Men on bikes started chasing their car which led to the crash.
Tap in for more from Delhi.
In context
Delhi News this Tuesday!
Monsoon
MET department predicts rain to return to Delhi on Monday
MET department predicted rain and thunderstorms in Delhi-NCR this week.
"This time we are expecting some rainy days as the trough, which is actually an elongated low pressure area, is likely to come closer to Delhi. It is presently located in some northern states triggering heavy rains there," an official said.
Delhi has hardly received any rain in the last 2 weeks.
DU
Delhi University releases fifth cut-off list
With 10% of admission seats still available, Delhi University declared its fifth cut-off list.
Even though a few seats are still available of some of the sought after courses, the cut-offs have not dipped by more than a mark or two.
Few seats for admissions to Bachelors in Economics are available after withdrawals at Kirori Mal College where cutoff is set at 96.5%.
Love Delhi news?
Stay updated with the latest happenings.
Notify Me
East Delhi
Man sent to jail for sexually assaulting minor
A Delhi court sentenced Dinesh, who ran a barber shop, to 10 years in jail for sexually assaulting a teenaged mentally challenged boy in East Delhi.
The boy's father lodged a police complaint in May'14, a day after the boy disclosed that Dinesh had committed 'galat kaam' (wrong act) with him for one week.
Meanwhile, Dinesh claimed of being falsely implicated in the case.
Civic news
Delhi govt releases Rs. 100 crore for Signature Bridge
The Delhi government released Rs. 100 crore for the Signature Bridge project after it hit a financial roadblock. An additional Rs. 250 crore was sanctioned too.
Built over Yamuna river, the Signature Bridge project had slowed in its last phase of construction.
Modeled on London bridge, the signature bridge with a bow-shaped steel pylon will be twice the height of Qutab Minar.
Civic news
CCTV cameras to be installed at Delhi bus stops
The Delhi government has decided to install CCTV cameras at bus stops after receiving countless complaints about drivers not stopping the buses at designated stops.
"Cameras at bus stops will also help us investigate cases of speeding and rash-driving. People wait at bus stops for minimum of 10 minutes in Delhi and this would ensure safety of commuters, especially women," a transport official said.
Greater Noida
Parents protest against fee hike of Modern school
A group of 50 parents of students studying in Modern Public School in Shahberi, Greater Noida vowed for a complete shutdown of school on Tuesday after school authorities hiked fees despite a warning from District Inspector of Schools.
These parents protested outside the school, claiming that school hiked the fees by 70%. They demanded the school to rollback the fees to the original amount.