Kanwar Yatra: 'Golden Baba' back with gold, more fancy cars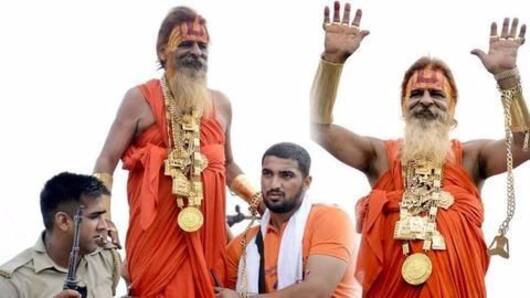 Main attraction of Kanwar Yatra Golden Baba, known for his ornaments, is back with a bang!
This time he added a gold chain to his collection of 21 gold chains, lockets, armlets etc. "My gold will be handed over to my favourite disciple," Baba said.
Before moving to spiritualism, he used to run a successful business in Delhi.
Tap in for more from Delhi-NCR.
In context
What's up with Delhi this Friday!
Crime
Father throws daughter in canal to become a 'tantrik'
Faridabad-based Dheeraj Kumar was held for throwing his 3-year-old daughter, who had gone missing, in a canal to become a 'tantrik', as claimed by police.
Kumar earlier told cops that he took his daughter, dropped her back near home.
But CCTV-footage made police suspicious. "In footage girl was not with him when he returned. When we confronted, he confessed to this crime," official said.
Civic news
NDMC moves court to evict Le Meridien over non-payment dues
After cancelling Le Meridien hotel's licence over alleged non payment of dues amounting to Rs. 523 crore, New Delhi Municipal Council (NDMC) moved estate officer's court for an eviction order.
"They (court) will seek hotel's comments, hear arguments and ultimately pass an order. If order goes against any party (hotel or NDMC), they can appeal within 12 days at district court," NDMC official said.
Love Delhi news?
Stay updated with the latest happenings.
Notify Me
Politics
Delhi's cabinet reshuffled, CM assigned no portfolio again
With the cabinet reshuffle taking place, Delhi Deputy CM Manish Sisodia has taken over tourism department and art, culture and languages and has been relieved of revenue department that has gone to law and transport minister Kailash Gahlot.
The reshuffle has been done to make rural Delhi intrinsic to government's development plans. Meanwhile, CM Arvind Kejriwal continues to be without any portfolios.
Ghaziabad
Cops rescue speech-impaired teen who was raped for 5 years
19-year-old speech-impaired girl who was allegedly sold and raped repeatedly by several men over a span of five years in UP was rescued by Ghaziabad's anti-trafficking unit in a major rescue operation.
After her parents' death, she ended up working as a help at one Fukran's house. The officials are now ascertaining the chain of events based on details given by girl in writing.
Metro
Delhi metro support staff protest, demand salary hike
Non-executive staff of Delhi Metro Rail Corporation wore black bands on their arms and started a sit-in protest at several metro stations demanding pay parity.
The staff also threatened complete shutdown of Metro services on Monday if their demands aren't addressed. However, there were no reports of disruption of services so far.
They also demanded formation of a union to fight for their rights.
Fake currency
Gurugram: Two men held for printing, circulating fake notes
Two persons were arrested for allegedly printing fake currency notes and circulating in rural areas by Gurugram police. Three fake notes of Rs. 500 denomination were recovered from them.
Police said that accused bought high quality paper, printer and a scanner from Delhi and printed fake notes in Ajmer, Delhi and Gurugram.
It is suspected that fake currency circulated amounts to Rs. 3 lakh.
Road rage
Doctor thrashed by men in road rage in Delhi
In yet another case of road rage, 48-year-old Dr Asif Siddiqui said he was beaten up by men in South Delhi's Malviya Nagar after his Hyundai Getz car brushed past a motorcycle.
"Mob was shouting maaro-maaro. One man punched my ear. They began beating me till I fell unconscious," he alleged.
On regaining consciousness, he alerted the cops. He is undergoing treatment in hospital.