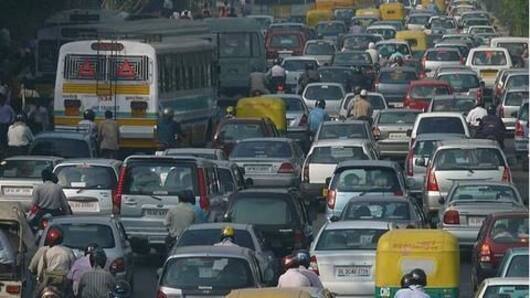 Delhi: NH24 traffic signal develops glitch, leads to 6-hour jam
Things turned chaotic for commuters at NH 24-Noida Link Road on Saturday when a traffic signal developed a glitch leading to six-hour traffic jam. The signal, usually green throughout the day, was functioning in 30-seconds cycle.
This resulted in long tail-backs. What made matters worse was ongoing construction work on Delhi-Meerut highway which has reduced road space.
Tap in for more from Delhi-NCR.
Delhi book lovers up for a hide-and-seek game of books
Delhi-based Shruti Sharma has started 'Books on Delhi Metro' community. Even DU student Keshav Chhabra started Book Fairies Delhi, whose members leave books throughout Delhi. Both communities drop hints on social media, encourage people to read the books and leave them for next person.
Pandher,Koli convicted of murdering 20-year-old domestic help
Businessman Moninder Singh Pandher and his domestic help Surinder Koli were held guilty of murder and attempted rape of a 20-year-old domestic help in Noida in 2006 by a CBI court.
This verdict was the second in the eighth case of the shocking Nithari serial killings in which 19 people were killed.
The quantum of punishment will be announced on July 24.
Love Delhi news?
Stay updated with the latest happenings.
Yes, notify me
Delhi government proposes to double allowances of anganwadi workers
A proposal aiming to double wages of anganwadi workers and helpers was cleared in a cabinet meeting chaired by Delhi CM Arvind Kejriwal.
It has now been forwarded to Delhi L-G Anil Baijal for approval. On getting his assent, government will implement it.
As per the proposal, Centre's share remains unchanged while Delhi government hiked wages from Rs. 3,200 to Rs. 7,878/month for them.
Court orders police to de-seal room where Sunanda Pushkar died
In response to Leela Palace hotel management's plea, a Delhi court ordered police to de-seal suite number 345 where Sunanda Pushkar, wife of Congress leader Shashi Tharoor, was found dead three years ago.
While critiquing police for lethargic investigation, city court gave police four weeks time.
The hotel management moved court after losses because of locking of suite mounted to Rs. 50 lakh.
Delhi-based gang robbing MG Road, IFFCO Chowk commuters busted
Police busted Delhi-based gang that allegedly targeted commuters from IFFCO Chowk and MG Road by offering them a lift and robbed them of their valuables. One of the gang members was arrested from Sanjay Colony in Delhi.
In another case, Gurugram's anti-snatching cell arrested two men allegedly involved in over 30 cases of theft, snatching, robbery and vehicle lifting.
Automatic sweeping machines to clean South Delhi markets, streets
With the aim of pushing cleanliness, South Delhi Municipal Corporation (SDMC) unveiled mechanical road sweepers, automatic sweeping machines and other sophisticated machines that will be used for night-cleaning of streets and markets.
Delhi's L-G flagged off six mechanical sweepers and other world-class machines to boost sanitation in areas that fall under the SDMC jurisdiction.
Officials said these machines will be bought in phases.