Delhi: Tomatoes being sold at Rs. 100/kg, country facing shortage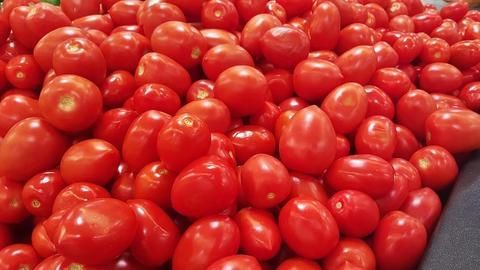 With the onset of monsoon, Delhi has been witnessing a huge tomato shortage leading to hike in their prices.
The retail rate of tomatoes has peaked to Rs. 100/kg and price is expected to remain high for the next two weeks.
To make matters worse, Azadpur mandi associations will go on a strike on Friday.
Tap in for more from Delhi-NCR.
In context
Delhi News this Tuesday!
Politics
Delhi CM denies directing Jethmalani to speak ill of Jaitley
Delhi CM Arvind Kejriwal, who is facing a civil defamation suit of Rs. 10 crore by Union finance minister Arun Jaitley, declined in High Court that he directed senior-counsel Ram Jethmalani to use "objectionable words" against Jailtley.
Jethmalani, during May 17 proceedings, claimed using "objectionable words" as per Kejriwal's instructions.
Following his revelation, Jaitley filed another defamation suit of Rs. 10 crore against Kejriwal.
Greater Noida
Proposed Jewar airport hits roadblock, farmer leaders oppose land acquisition
The proposed Jewar airport along the Yamuna Expressway may get delayed as farmers are disappointed with the compensation being offered to them.
Farmer leaders of Greater Noida have decided to go on a campaign telling other farmers not to give up their lands.
The Greater Noida and Yamuna Expressway authorities are acquiring land through direct purchase for Rs. 3,000-5,000 per square meter.
Love Delhi news?
Stay updated with the latest happenings.
Notify Me
JNU
Upcoming JNU hostel will allot 75% rooms to North-East students
Union minister of state for development of north eastern region Jitendra Singh, while laying the foundation stone of a new hostel at JNU, announced that 75% of its rooms will be allocated to North-East students.
The hostel, which has been named Barak after Barak river in North-East, will be commissioned after 20 months.
The hostel will have five floors and would accommodate 400 students.
Negligence
Delhi: Man bleeds to death as speeding Audi hits him
25-year-old Manoj was thrown in air and ended up getting his stomach pierced when he landed on road divider's grilles after he was allegedly hit by a white Audi.
As per eyewitnesses, Manoj was crossing the road when the mishap happened. Cops rushed him to hospital where he was declared dead on arrival.
Police have registered an FIR and investigation is underway.
Gurugram
Lack of facilities make 28 students drop out of school
28 students of class 11 and 12 dropped out of a school in Gothra village, Rewari after authorities failed to assign faculty and infrastructure.
The school did some reforms earlier but didn't get teachers and lab facility to conduct science classes.
"My friend left her studies and is helping her mother. She wanted to study science but there is no facility," a student said.
Yamuna
Phase 2 of Yamuna Revitalisation Project to start soon
The green court National Green Tribunal was informed that second phase of the 'Maili se Nirmal Yamuna Revitalisation Project 2017' is going to start soon with the aim of reducing pollution levels in Yamuna.
The work under phase I, in the Najafgarh drain and Delhi Gate drains, is already going on and the second phase will reduce pollution in Shahdara, Barapullah and other drains.
Civic news
E-rickshaw charging points to be set up at parking lots
North Delhi Municipal Corporation (North MCD) decided to establish charging points by next month for e-rickshaws at six identified spots (parking lots) far from main stretches in order to de-congest roads.
"We have decided to appoint a contractor who will install charging points at selected parking lots, collect a minimal amount from e-rickshaws and allow them to charge their vehicles here," an official said.