Students protest against Delhi govt for stopping grants to colleges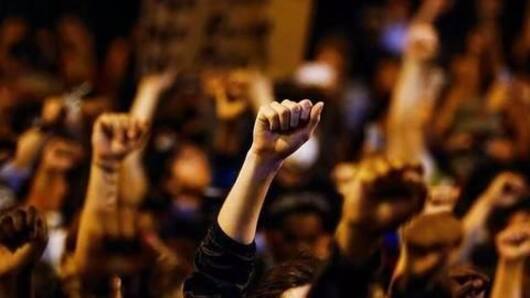 Delhi University (DU) students took to streets to protest against Delhi government's decision of stopping funding to 28 DU colleges as they failed to form governing bodies.
12 DU colleges are fully funded by government, while the rest are partially funded. The future of 50,000 students studying in DU colleges hangs by a thread as colleges might shutdown.
Tap in for more from Delhi-NCR.
In context
What's up with Delhi this Wednesday!
Manesar
Major fire breaks out at helmet factory in Manesar
Nine fire tenders from Gurgaon, Manesar and Maruti were pressed into service after a major fire broke out at a helmet-manufacturing factory in Sector 8, Manesar.
No casualties were reported. Officials suspect that short circuit caused the fire.
The fire was brought under control, however, factory's first and ground floor containing goods worth lakhs got gutted in the fire.
Officials are conducting further investigations.
Chandni Chowk
Delhiites to experience Old Delhi's charms with DMRC's heritage walk
Starting August 5, Delhiites will get the chance to relive Delhi of old days when they sign up for a walk around walled city.
The initiative, launched by Delhi Metro, includes one-hour long walk, starting from Chandni Chowk station every weekend at 10.30 am.
"The walks will portray unique amalgamation of old world charm of these areas with modern Metro system," DMRC official said.
Love Delhi news?
Stay updated with the latest happenings.
Notify Me
DDA
With few buyers, DDA housing scheme deadline may be extended
Delhi Development Authority (DDA) may extend its last date for submitting applications by another 15 days, after it received only 5,000 applications for its 12,000 flats that are for sale. Currently, the last date is August 11.
In order to lure more buyers into the scheme, DDA is in talks with four banks to plan loan offers against registration money.
Fuel wastage
Bad roads/traffic make Delhiites shell out more money
A study by Council of Scientific and Industrial Research-Central Road Research Institute (CSIR-CRRI), revealed fuel worth Rs. 960 crore gets wasted everyday across India when people travel on potholed, crowded roads as compared to fuel-efficient roads.
"Initial findings conducted on two stretches in Delhi revealed that Delhiites could be consuming two-to-three times more fuel because of bad quality roads and traffic," CRRI scientist said.
Indirapuram
Ghaziabad: GD Goenka student dies after falling in school
A class IV student, Armaan Sehgal from GD Goenka School in Ghaziabad's Indirapuram succumbed to death after falling on the second-floor corridor of the school building on Tuesday morning.
School authorities rushed Armaan to Shanti Gopal Hospital, where doctors declared him brought dead.
Meanwhile, the autopsy report reveals head injury as the cause of death.
DTC buses
Finance dept gives its assent for procuring 2,000 buses
In a big relief to Delhi Transport Corporation, finance and planning departments gave the go-ahead for procurement of 1,000 DTC buses and 1,000 cluster buses.
The proposal has been forwarded to cabinet for approval. DTC will invite tenders for procuring buses.
Delhi is facing huge shortage of buses. Out of a fleet of 4,020 DTC buses, 400 buses are unavailable daily due to breakdowns.