Delhi
Saree flash mob to mark women empowerment at Delhi mall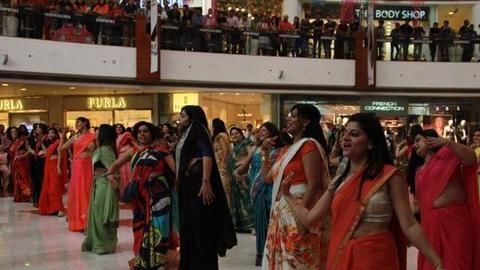 On the completion of 75 years of Quit India movement and 70 years of India's Independence, an NGO, working for welfare of women, organized a saree flash mob 'Jashn-e-Azadi' to commemorate women empowerment in an Independent India.
The event saw participation of 40 women, aged between 35-70, who showcased different ways of wearing a saree with different ensembles.
Tap in for more from Delhi-NCR!
In context:
News from Delhi this Thursday!
10 Aug 2017

Saree flash mob to mark women empowerment at Delhi mall
Gurugram

Vendor policy opposed, show-owners to protest during CM's visit
200 shop-owners of Sector 14 market remained shut for second consecutive day to protest against Municipal Corporation of Gurugram (MCG) setting up new street vends around market.
The MCG is acting as per SC's guidelines which require for street vendors to be resettled at designated place in the market.
Meanwhile, shop-owners declared they will protest during Haryana CM Manohar Lal Khattar's visit next week.
Love Delhi news?


Stay updated with the latest happenings.
Noida

Residents' association criticizes Noida Authority over water logging
Confederation of NCR Residents' Welfare Association wrote to district magistrate and Noida authority and lashed out at them over the dilapidated state of roads in Noida during monsoon.
The association highlighted how the authority works in damage control mode, by deploying pumpsets to pump out water, and instead doesn't plan in advance so that a ''flood'' like situation doesn't arise.
Delhi High Court

Delhi HC takes action on 7-year-old's plea against DDA
After hearing a 7-year-old girl's plea, Delhi HC stayed DDA's plan of destroying a 30-year-old park in Rohini to build a community-centre.
She had complained that DDA was "converting the green beltpark of Rohini Sector 8 into concrete jungle by reducing park area."
DDA was ordered to file an affidavit explaining details of community centre, reasons for it to be built in the park.
South Extension

Delhi police Gypsy stolen ahead of I-Day, cops on alert
Just days before Independence Day, a police quick reaction team vehicle, a Gypsy attached to the Tughlaq Road police station, was stolen near South Extension.
Security agencies are trying to recover the Gypsy as it could be used as vehicle-borne IED for a strike before August 15. Intelligence agencies are assisting too.
This time the threat perception is higher for Independence Day.
Noida

156 sites identified for towers installation to amplify mobile connectivity
In order to boost mobile phone connectivity, Noida authority has identified 156 sites, in green belts across the city, to erect signal towers.
The authority issued a public notice asking mobile phone service providers to submit applications if there is a need of tower at the site.
The applications will be processed in accordance with revised mobile tower policy before signal towers are installed.