Economy
PM inaugurates the first Maritime India Summit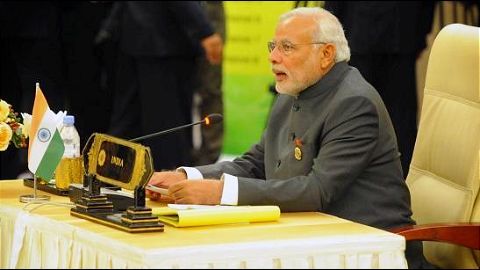 PM Modi inaugurated the Maritime India Summit and presented a national outlook plan on the Sagarmala Project with details of the investments.
He said the maritime sector connects nations and civilisations along with creating and facilitating economic activities.
Union Shipping and Ports Minister Nitin Gadkari said that at this 3-day summit, deals bringing in investments of over Rs.2,000 crores will be signed.
In context:
India's first Global Maritime Summit
8 Feb 2016

Modi announces the Global Maritime Summit
Prime Minister Narendra Modi announced that India will host the first-ever Global Maritime Summit in April this year.
The announcement was made by the PM at a gathering to recognize the services of the personnel of the Indian Navy for making the International Fleet Review (IFR) a "success".
Almost 50 navies from around the globe joined in the IFR, the second of its kind.
What is the Maritime India Summit?

Maritime India Summit 2016 (MIS 2016) is a first of its kind flagship enterprise of Ministry of Shipping that will present a unique global platform for investors to look at the potential business possibilities in the Indian Maritime Sector.
Love Economy news?


Stay updated with the latest happenings.
MIS 2016

Maritime India Summit 2016: What to expect?
The MIS 2016 will be organised from 14-16 April 2016 at Mumbai and Prime Minister Narendra Modi will inaugurate it.
More than a dozen union ministers will be addressing the summit, for which "3,000 delegates, including 300 from 41 countries, have registered."
The summit will have as many as 200 exhibitors, 13 technical sessions and 52 participants from South Korea
South Korean partnership for Maritime India Summit

South Korea is India's partner country for the event. The two countries will also sign "a memorandum of understanding for cooperation and mutual assistance in the port sector."
14 Apr 2016

PM inaugurates the first Maritime India Summit
The Sagar Mala project

Sagar Mala project is a vital and customer-oriented scheme of the Government of India to renew and modernise India's ports so that port-led development can be increased and coastlines can be used to contribute towards India's growth.
Love Economy news?


Stay updated with the latest happenings.
14 Apr 2016

Modi pays homage to Ambedkar: Calls him architect of maritime policy
Modi paid homage to B. R. Ambedkar on the occasion of his 125th birth anniversary in his inauguration speech at the Maritime India Summit 2016.
He said Ambedkar had exceptional foresight on how to competently use water sources and how to advance irrigation.
Furthermore, Modi called Ambedkar "the architect of the water and river navigation policy in India."
15 Apr 2016

10 million jobs for maritime sector
Prime Minister Narendra Modi announced his government's resolve to create about 10 million jobs over the next ten years through development of the maritime sector.
Inaugurating the first ever Maritime India Summit, he added that "this includes four million direct and six million indirect jobs."
The government is also working on value addition in fisheries, aquaculture and cold chain development.