Entertainment
02 Oct 2017
Singer Udit Narayan's son Aditya Narayan misbehaves with IndiGo staff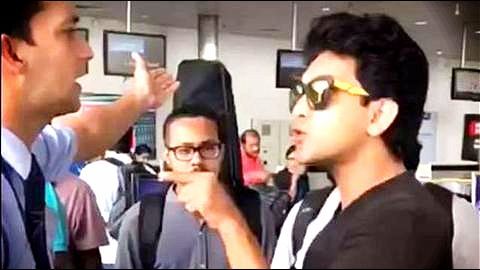 Renowned Bollywood singer Udit Narayan's son, Aditya Narayan, misbehaved with IndiGo airline's staff at Chhattisgarh's Raipur Airport.
He was traveling with five members and was scheduled to fly a Raipur-Mumbai flight. They were asked to pay Rs. 13,000 for excess baggage.
However, the singer refused, saying he wouldn't pay more than Rs. 10,000.
He then used unparliamentary language against the ground-staff, including a woman.
In context
Singer Aditya Narayan refuses to pay excess-baggage charges
Aditya Narayan boarded aircraft after apologizing to staff
An IndiGo spokesman said the singer was allowed to board their aircraft only after he apologized to their employees and boarding passes were given. He added, "We at IndiGo can at no point in time compromise the dignity of our staff members or passengers."
Love Entertainment news?
Stay updated with the latest happenings.
Notify Me
Details
Narayan used abusive words, shouted loudly at staff: IndiGo
The IndiGo spokesman said Narayan pointed a finger at the duty manager, using profanity.
The staff asked him to be civil and stop using such language as there were female employees and passengers present.
The singer then started shouting loudly, using abusive words.
The spokesman added the staff then informed Narayan that he wouldn't be allowed to fly if he continues to misbehave.
Narayan's name can't be included in no-fly list
Aditya Narayan will not likely end up on the government's new no-fly list. Under the provisions, a passenger's unruly behavior only onboard an aircraft can lead to their ban for a few months or a lifetime, depending on the severity of misbehavior.