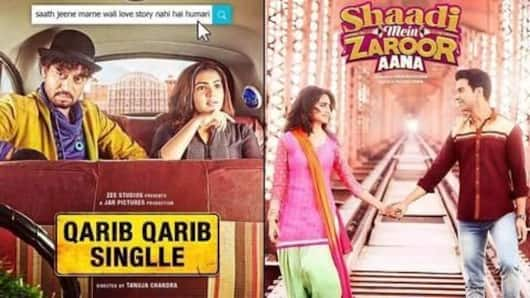 Weekend watch: Qarib Qarib Singlle or Shaadi Mein Zaroor Aana?
The weekend is approaching. Which movie should you watch: Tanuja Chandra's Qarib Qarib Singlle or Rajkumar's Shaadi Mein Zaroor Aana?
Starring Irrfan Khan and Parvathy, Qarib Qarib got an overwhelming response. It revolves around two adults who rediscover love through a dating-app.
'Shaadi Mein Zaroor Aana' is a multi-genre film, but gets a lukewarm response.
Here's more.
Qarib Qarib: Well-crafted, winsome rom-com; Shaadi Mein: Very loud
Credits:
According to film critic Shubhra of IE, who is quite intolerant when it comes to Bollywood, Qarib Qarib is fun, fresh and coming of age.
'The pace is just right. This is the kind of film where nothing happens while everything is happening," she wrote.
She rated it 3.5 out-of 5.
She, however, labelled 'Shaadi Mein' dangerously muted and gave it just 1.5 stars.
Qarib Qarib: Refreshingly sweet, yet mature; Shaadi: Shouldn't be missed
Sweta Kaushal of Hindustan Times feels 'Qarib Qarib' is refreshingly sweet and has a very mature love story.
"The interactions between the lead couple are a novel and realistic way of depicting romance. They are devoid of flowers, hearts and chocolates, and even make light of cinematic cliches."
She gives it 4-stars.
She is equally impressed by 'Shaadi' and gave it 3.5 stars.
Love Entertainment news?
Stay updated with the latest happenings.
Yes, notify Me
Qarib Qarib: Tale of lonely hearts; Shaadi: Can be ignored
According to Saibal Chatterjee of NDTV, 'Qarib Qarib' tells the tale of two hearts who are united by loneliness. "Irrfan Khan's film might put off average filmgoers but if you see value in a movie that breaks away from the norm, your search ends here."
Saibal doesn't seem overly impressed, gives 3 stars.
He calls 'Shaadi' as avoidable and gives it just 1.3 stars.
Editor's take on Qarib Qarib
Be it a rom-com, suspense or thriller, there's nothing that Irrfan Khan cannot do and when he's paired with a brilliant actress like Parvathy, he pulls it off even better.
The film's mature take on love is quite intriguing. The narrative, however, is as unusual as the spellings of the film are, but just like opposites attracts in the film we are attracted to this movie.
Editor's take on Shaadi Mein Zaroor Aana
Ratnaa Sinha's 'Shaadi Mein Zaroor Aana' is a multi-genre film, it includes romance, drama, revenge, songs, But one thing that this Rajkummar Rao-Kirti Kharbanda-starrer wonderfully does is: it throws light on gender inequality, dowry and corruption, forcing people to take a careful note of these social evils.
This film gets a mixed rating from various film critics but is regarded as a thorough entertainer.