Entertainment
Children's Day: 5 movies that brings out our inner child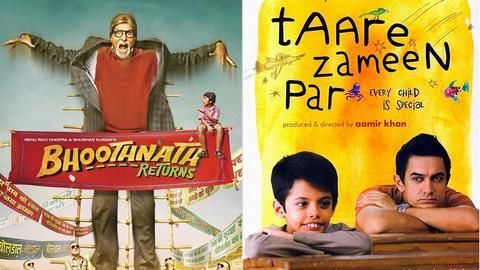 It's Children's Day today and we have compiled a list of movies that made our childhood awesome.
While growing up, these movies were an integral part of our lives. And, as adults, we still watch, enjoy and cry every time we see re-runs of these movies.
From 'Masoom' to 'Taare Zameen Par', here's a list of movies that would bring those memories back!
In context:
Children's day special movies
14 Nov 2017

Children's Day: 5 movies that brings out our inner child
Hope

Taare Zameen Par: Every child is special
One of Aamir Khan's career-defining movies, Taare Zameen Par not only added a feature to his already glorious hat but also proved to be a successful directorial debut for Aamir.
In the film, he played a mentor to a child suffering from dyslexia.
The film had a very mature take on dyslexia and a lesson for parents in raising up their children right.
Magic

Koi Mil Gaya: Friend from another world
'Koi... Mil Gaya' can be called one of the most challenging movies of Hrithik Roshan's career. In this movie, he plays a mentally unstable person who has grown in age but not in mind.
His friendship with Jaadu became a hot favorite among children. We all dreamt and hoped to find our very own Jaadu.
Everyone can use a little magic in life!
Thrills

Home Alone Franchise: The never-ending comedy
Macaulay Culkin's portrayal of Young Kevin in 'Home Alone' is still etched in our memories.
Every time that lad headed for a new adventure, the child in us cringed being watched over by our parents 24/7.
Kevin's healthy notoriety and his way of dealing with thieves motivated us hugely; we were left wishing for a genius mind like his with exceptional physical powers.
Innocence

Masoom: Lakdi ki kathi, kathi mein ghoda
Although 'Masoom' directed by Shekhar Kapur deals with a serious issue of a man's world crashing down on discovering that he has an illegitimate kid, the innocence portrayed by the child artists throughout the movie makes for a great watch.
Also, this film gave us a song that still remains every child's anthem 'Lakdi ki kaathi, kaathi mein ghoda'.
Friendliness

Bhoothnath: A friendly ghost
Bhoothnath is one movie that would actually make you fall in love with something you have been fearing all your life: ghosts.
Amitabh who plays the ghost is unfriendly at first but slowly the kid befriends the ghost; later they both are inseparable and Banku finally helped him make his final journey.
The film teaches us that friendship is age-agnostic.