Entertainment
19 Nov 2017
Rajasthan CM asks for a delayed release of Padmavati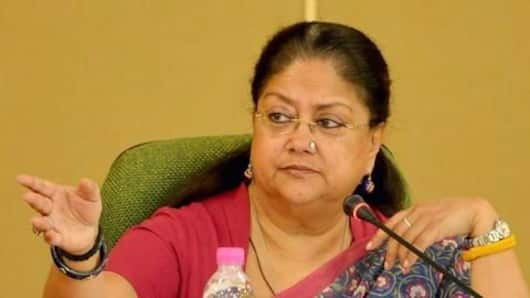 Owing to growing protests against Sanjay Leela Bhansali's film "Padmavati", Rajasthan Chief Minister Vasundhara Raje has written to the Union Ministry of Information and Broadcasting urging the ministry to delay the film's release till "necessary" changes were made.
In the letter addressed to Smriti Irani, the Rajasthan CM said that changes would have to be made to protect "public sentiments".
In context
Padmavati controversy: Rajasthan CM asks for delayed release
Censor board member calls entire controversy "unnecessary"
Kailash Masoomhas, a member of the Central Board of Film Certification (CBFC), called the entire controversy surrounding Bhansali's movie "unnecessary" and said that the film should not be opposed before it has been watched.
Letter
The contents of the Rajasthan CM's letter
The Rajasthan CM acknowledged movie producers' rights to make movies according to their will, but said that the protests could not be ignored.
She also urged the censor board to take into consideration the entire spectrum of outcomes before issuing a certificate to the movie.
She proposed that changes be made to the movie to stop the situation from spiralling out of control.
Love Entertainment news?
Stay updated with the latest happenings.
Notify Me
An excerpt from Raje's letter to Smriti Irani
"The producers have the right to make movie according to their understanding, however, the Constitution also provisions for logical control on even the fundamental rights to protect law and order, morality and public sentiments from being hurt," wrote Raje.
Protests
Protesters welcome Raje's letter
Rajasthan has been witnessing protests against Bhansali's film for a few weeks now.
Spearheaded by erstwhile royal families, the protests intensified after the release of the music video "Ghoomar" from the movie which many protesters held to be derogatory to the dignity of the Chittorgarh queen on whom the movie is based.
Raje's letter was welcomed by protesters and other groups across Rajasthan.
Rakhi Sawant files FIR against Rajput Karni Sena
Meanwhile, actress Rakhi Sawant has filed an FIR against the protesting Rajput Karni Sena members in response to threats she received after she publicly supported Bhansali and the stars of the film.